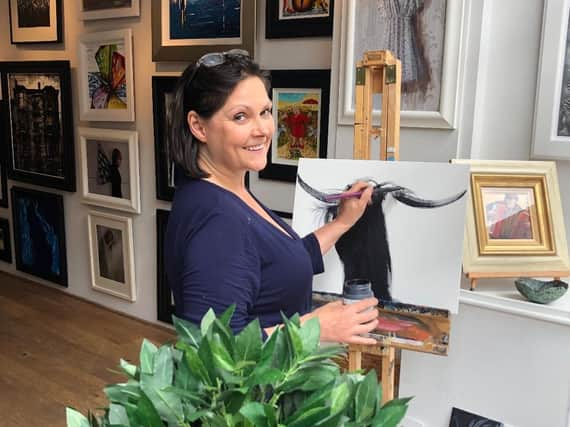 Alison Donnell, the Ayrshire based gallery and exhibition host, has been supporting good causes for many years and has chosen CLIC Sargent after hearing about the impact of Coronavirus (Covid-19) on the young cancer patients and their families who they support.
Alison said: "I'm really proud to be a part of 'Team CLIC Sargent', it feels great to be doing my bit to help this amazing charity. I've seen first-hand the difference the charity makes to the lives of children and young people with cancer.
"Cancer turns families' lives upside down, it's so important that CLIC Sargent are there from the point of diagnosis to provide all the support that they need so we want to raise as much as possible from 'The Big Charity Art Exhibition' online."
Featured Ayrshire artist, Elaine Johnstone, is pleased to support this exhibition – with two girls of her own she knows how vital the services CLIC Sargent provide.
Last year in Scotland, CLIC Sargent supported 600 number of families, giving out 506 financial grants to the value of £106,230 helping families to cope with the costs of cancer.
The Cancer Costs report from the charity found that families with a child on active treatment spend an extra £600 a month.
Carol Jones, fundraising engagement manager for South &West Scotland at CLIC Sargent, said: "I'm delighted that The Studio Fine Art Co have chosen to support CLIC Sargent this September, through The Big Charity Art Exhibition, online. Forty per cent from the sale of each artwork piece sold will be donated to the charity. This donation will mean we will be able to help even more children and young people across Scotland, thrive not just survive after their cancer diagnosis."
To view and purchase artwork visit www.thebigcharityartexhibition.org.