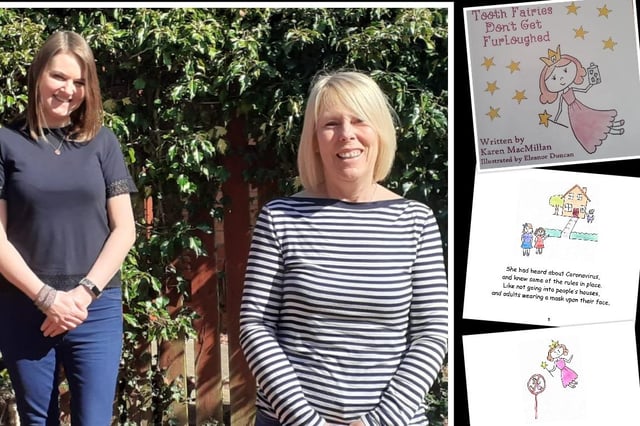 Karen MacMillan and Eleanor Duncan from Carluke joined forces to create Tooth Fairies Don't Get Furloughed, which is now available to order on Amazon.
Karen MacMillan doesn't have to imagine; it's something she witnesses on a daily basis as an early years worker at Crawforddyke Primary School's nursery in Carluke.
A former pupil, Karen has worked there for 22 years and is renowned for her writing skills, often being called upon to pen poems for special occasions.
Last year, around this time, Karen was asked to write a story featuring the school mascots – Mossy and Crawford – to help children preparing to make the transition from nursery to primary one. Illustrated by deputy head teacher Hazel Buchanan, Mossy Starts School was a huge hit.
Karen MacMillan has published her latest book for wee ones on Amazon.
At Christmas, when the children were worried about Santa travelling the globe, Karen and Hazel joined forces again for Santa Shares His Worry which every child received as a gift.
It was another success story, so much so that a colleague said Karen should consider publishing her own book.
Now, with a little inspiration from her nursery class, that's exactly what the 43-year-old has done.
Karen said: "One of the girls had a wobbly tooth and was worried the tooth fairy wouldn't come if she'd been furloughed.
"The children are only four or five but they know what that is because some of their parents have experienced it.
"That gave me the inspiration for the book. My colleague, Eleanor Duncan, agreed to do the illustrations and it just snowballed from there."
Tooth Fairies Don't Get Furloughed aims to help parents explain the world we're now living in, as well as quelling wee ones fears that the tooth fairy won't visit them during the pandemic.
Publish Nation is now promoting the book on Amazon, which is printed to order for parents.
Karen's own nursery community has been tremendously supportive, snapping up copies to read to wee ones at bedtime.
She is now spreading the word in the hopes that more parents in Clydesdale will snap up copies.
Karen said: "We have a closed Facebook group in school and it's been lovely for Eleanor and I to see so many parents reading the book to their wee ones as a bedtime story.
"Staff have also been buying them for their children and we've even had wee ones bringing in copies for us to sign.
"However, we'd like other parents in Clydesdale to know that the book is available on Amazon. It could help them talk to their children about what's going on.
"The story is a simple one but it opens up the conversation and let's children know that it's best to talk to someone if you're feeling worried."
With sons of 16 and 19 respectively, Karen and Eleanor know only too well themselves how important it is to communicate – no matter what age your offspring are!
Tooth Fairies Don't Get Furloughed is aimed at children aged three to six years old.
It tells the story of Jessie, who has her first wobbly tooth but is worried as she fears the Tooth Fairy may be furloughed.
She wants to get a shiny coin like her big sister did when her first tooth came out but is frightened the pandemic will stop her.
A topical story during these uncertain times, the book has been given five stars by ten reviewers since its release on Amazon in early March.
One reviewer said: "I read the book to a four year old and six year old, who both enjoyed the story. With the six year old, it opened up positive conversation about the virus and her thoughts and feelings about it."