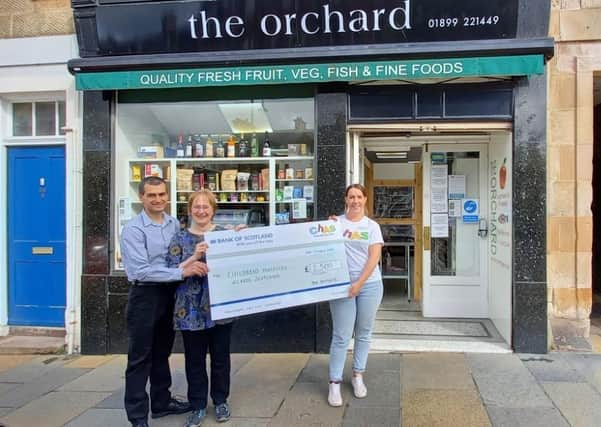 Biggar Flavour did the quadruple at the Great Taste Awards in the Guild of Fine Foods annual search for the best food and beverage products in the UK.
The world's largest, and most trusted, food and drink awards saw over 12,700 food and drink products blind tested by expert judges, with the winners chosen by a panel made up of top chefs, buyers, food writers and retailers.
Based at The Orchard in High Street, the bakery wowed the judges with four varieties of oatcakes as its 'Traditional Scottish' and 'Completely Cheesy' both were awarded two stars, while its 'Three Seed' and 'Cracked Black Pepper' each received one star.
The grant of £5000 was awarded to Biggar Flavour as part of a scheme launched by Scottish Bakers in June 2019 to help bakers across Scotland to buy or modernise their equipment.
Biggar Flavour director Jane Brown was delighted to be recognised at the awards having had to overcome personal and professional hardship over the last few months.
She said: "It was wonderful news to find out we had taken four awards for our oatcakes, all of which were made, packed and labelled using the new equipment we were able to purchase as a result of a grant we received last year.
"We sent the products off for judging on March 13, two days later I broke my ankle and a week after that we were all locked down.
"Its been a tough few months for everyone I know, but we have been working hard to bake fresh products daily and have also managed to raise £2500 for CHAS and nearly £5000 for the food bank and homeless people over lockdown.
"So for us to receive these awards has brought the sunshine back and I am back on my feet too, we are absolutely thrilled!"
The £125,000 Scottish Bakers grant scheme was available to small family-run or independent businesses and was fully subscribed.
Scottish Bakers chief executive Alasdair Smith said: "It is great to hear that the fund did indeed provide vital funding to support Biggar Flavour.
"The fund allowed them not just to invest in their businesses for the future and helping them to meet the needs of the changing modern high street, but also to take four coveted awards."