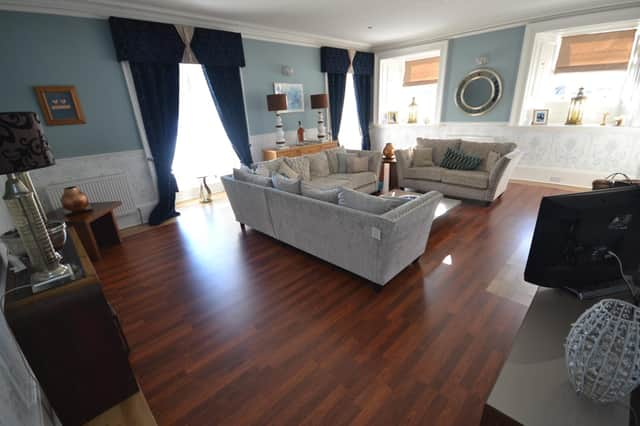 So says owner Paul Kelly – and he is not kidding because the home he has lived in for the last eight years with wife Carroll is one of four fully re-modelled apartments in historic Cumbernauld House.
Paul who runs Partick Thistle's charity trust believes the duo are headed back to his native Glasgow – but he has nothing but praise for this luxury ground-level three-bedroom flat with its gated entrance and private grounds.
He said: "My mum said to me 'where would you get something like this?' – well, the answer is that we won't and I think somewhere smaller is what we are looking for.
"To me, it would be an ideal choice for a young family. The whole notion of space in this house is amazing – it is not just the size of the rooms, it's the height of the ceilings and of course the views of the grounds outside."
The flat fits into the 'one careful owner' category too as the Kellys were the first to snap it up when it went onto the market and have created many happy memories in this majestic environment ever since.
Paul added: "We have a great time living here and I think it's important for people to know that something as unique as this can be found here. Only one of the houses here has been sold here before, so this could be a good opportunity!"
Potential buyers seeking out heritage properties know that these are not always in walk-in condition but it's perfectly clear this just isn't the case at Cumbernauld House, in a move that could save you serious money.
The bedrooms are all double-sized and one boasts a large dressing area with access to a modern en-suite shower room. Another top feature is the welcoming grand hallway which leads to a fabulous fitted kitchen and a beautiful lounge with a log and coal burning fire.
The accommodation is complete with a stunning family bathroom which has its own stand-alone bath. The grounds with their enviably lush woodland are secluded too and there is ample parking.
The price? Offers are in excess of £315,000. For more details contact Village Estates on 01236 636101.