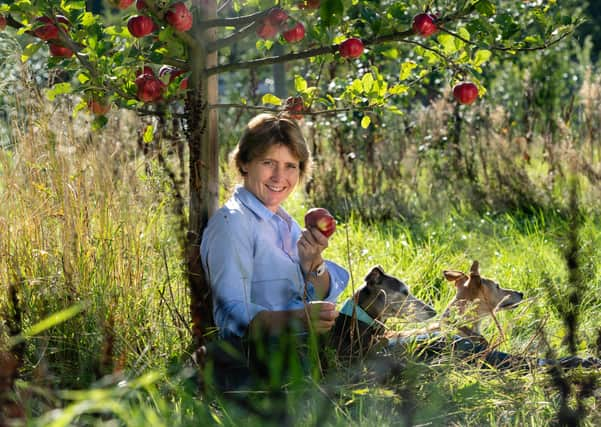 Now a group of apple growers has formed to revive Scotland's almost extinct apple growing industry.
Apple production in Scotland is almost non-existent with 70 per cent of the apples we eat in the UK imported – a market estimated to be worth £230 million annually.
Local varieties such as the Lass O'Gowrie, Galloway Pippin, Scotch Bridget and the Bloody Ploughman have been replaced by imports on our supermarket shelves.
But apple growing has deep roots in Scottish history, with orchards grown on a big scale in abbeys and monasteries in the 12th century, large-scale growing on estates in the 17th century and thousands of trees dotting our landscape in the 19th century.
Now the Rural Innovation Support Service (RISS), led by the Soil Association Scotland, is trying to bring commercial apple growing back.
"The intention is to grow Scottish apples for Scottish consumption, like we saw back in the 1930s and 1940s before the demise of the sector," said Amanda Brown of the Scottish Agricultural Organisation Society (SAOS), who is facilitating the group.
"We want to get Scottish apples to Scottish people. As well as being good for the industry, wouldn't it be great to get kids eating nutrient-rich apples grown locally?"
Catherine Drummond-Herdman, of Megginch Castle Orchard in the Carse of Gowrie, came up with the idea.
She said: "I was born and brought up at Megginch.
"Fifteen years ago, it was heavily overgrazed with only 91 old trees left. So I determined to replant it and we now have more than 1400 fruit trees!
"I'd love to see a return of apple growing on a commercial scale."
Having been enchanted by her own ancient orchard, Catherine, with the support of the RISS group, is on a mission to encourage others to grow apples commercially in Scotland again.
But more research and collaboration is needed to help growers in Scotland so the group hopes to identify who is currently growing in Scotland and at what scale, then bring them together to develop the industry.
"Research on apple growing currently comes from the south," Catherine said, "but apple varieties are so site-specific that if someone plants a new orchard with the wrong variety it will simply fail.
"Collaboration, not competition, and the sharing of ideas and information about different varieties is going to help everybody. The economies of scale work much better in a group than on your own.
"As well as Scotland becoming self-sufficient in growing all our eating apples, I would like to see a Grown-in-Scotland Mark so that customers can be confident they're eating apples which have genuinely been grown in Scotland.
"It's also important for the group to share knowledge of growing and marketing skills to raise awareness of Scottish-grown apples."