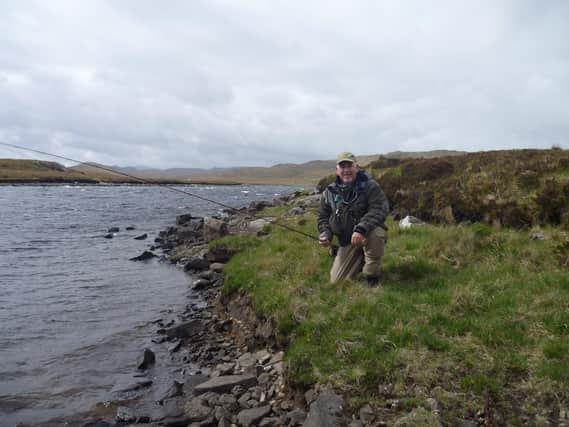 Mike Kernan was a fishing-mad teenager in the 1970s when he was tipped off about an abandoned quarry between Cumbernauld and Condorrat.
It became a popular spot known as The Perchy until it was bought over and transformed into Magiscroft, Scotland's first purpose built coarse fishery.
The story is revealed in Fishing In The Sun, a collection of offbeat, thought-provoking and at times hilarious tales by the angling columnist and author.
Mike, who grew up in Kildrum said: "The canal at places like Dullatur and Auchinstarry was the usual fishing haunt for me and my pals back then.
"But a neighbour told me about an abandoned quarry and I found it close to the old PDSA place near the main Airdrie road.
"I can't swear I was the first person to fish it but there were no signs of life and I didn't see anyone else on my next few visits.
"There was a high cliff on one side and the other banks were strewn with rubble and chunks of old machinery so access was difficult."
But when Mike was able to cast a line, he discovered a fishing paradise all of his own – at least at first.
He said: "The place was stuffed with perch and the first few times I was catching 100-plus.
"But then I told one pal who told one other pal and within a few weeks it was mobbed out."
The quarry grew in popularity and became known as The Perchy but it was eventually taken over and turned into Magiscroft, the first major centre in the country dedicated to coarse fishing.
Mike said: "There are pictures in the café at Magiscroft of people jumping into the water from the cliffs when it was still The Perchy.
"There was also a story about an angler leaping in to save a baby after a pram rolled into the water."
The retired newspaper executive is now a writer and university tutor based in Largs
His debut novel The Fenian, set in a fictional version of Cumbernauld, came out earlier this year.
He added: "It was difficult to find places to fish growing up in Cumbernauld so apart from the canal, we were always looking for new spots, like that old quarry."
Fishing In The Sun is available from Amazon.