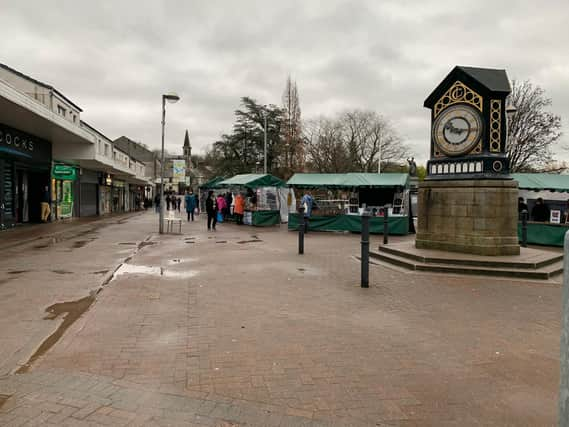 The Milngavie market, which operates every third week during normal times, was up and running in the village on Friday, February 19.
Only a few of the stalls were selling essential food produce, with others ranging from jewellery to children's colouring pencils.
Many of the stall holders were also from outwith the local authority area.
Local traders struggling to survive, complained to the Herald and to Milngavie BID.
One trader said: "It's ridiculous that outdoor markets are allowed in tier 4 restrictions but I am also annoyed that the market decided to go ahead in the middle of a pandemic. It's just not in the spirit of the guidelines."
A spokesperson from Milngavie BID said: "Following many local business owners contacting the Milngavie BID in disbelief that any outdoor market could take place at this time, we made representations to EDC officers, elected members and our MSP.
"All were consistent in their reply that the market was in line with official government guidance. Therefore, the Milngavie BID have respectfully suggested to our MSP that the current guidance is not fit for purpose on this issue and requested for the matter to be raised at the appropriate level of Government."
He added: "Many retailers who could sell outside their own shops, do not want to do that as it is not in the spirit of the current restrictions and would likely attract people the town at a time when this is being discouraged at all levels of Government."
Traders expressed their anger on social media at East Dunbartonshire Council for allowing the market to go ahead while they were shut and still had to pay rent and rates.
But Thomas Glen, Depute Chief Executive said there were no grounds for the council to step in.
He added: "Outdoor markets are currently permitted to operate under the terms of the Scottish Government COVID-19 regulations.
"We acknowledge the concerns expressed, but at present, the licence holder is entitled to operate and there are no grounds for the Council to suspend the licence or otherwise insist that the market does not take place."Similar markets are operating in other local authority areas."Council Licensing Enforcement and Trading Standards officers visited the market to ensure that the conditions of the licence were being complied with and that social distancing measures were in place.
"In terms of workers travelling to these markets, that is permitted underthe regulations as it is deemed travelling to a place of work.
"In terms of members of the public travelling to the market, issues around essential travel sit with Police Scotland and it would be for them to enforce.
"It is not something that the Council can enforce via licensing orotherwise. Police Scotland were made aware of the market going ahead.
"This is a very challenging time for local businesses and we continue to provide as much support as possible, including advice on the current Scottish Government restrictions and processing of grant support. "
The Herald contacted Milngavie MSP Gil Paterson, who said he had been in touch with the Scottish Government over traders' concerns.
He said: "Milngavie BID approached me in regards to this late on Thursday evening and I was aware that outdoor markets and agricultural markets were still functioning throughout the United Kingdom, but I was unaware of the rationale in regards to all the different criteria, etc.
"I said I would approach the Scottish Government on their behalf, which I sent the next day and await the response."
While Damon Scott, Chief Executive, Dunbartonshire Chamber of Commerce, said: "I believe the licence for this event was granted in October of last year when there were signs of an easing of restrictions so the environment may well have been different to the one we now find ourselves in.
"Having had a licence granted, it falls upon the market operator to decide whether their activity is in the spirit of the current government advice. The feeling from many of the businesses in the town, who have worked incredibly hard over the last year to keep their staff and customers safe, is that events that promote a gathering of people isn't in that spirit.
"There is an understandable frustration, particularly with non-essential goods on offer, that many local businesses are themselves unable or unwilling to trade in order to control the spread of the virus.
"The Chamber plays an important role to represent our business community and to inform and influence government policy. We will feed in some of the important issues that have been highlighted in Milngavie through our network's ongoing engagement with the Scottish Government.
"The Chamber has been working with a number of our town centres in East Dunbartonshire and with East Dunbartonshire Council to deliver the LovesLocal Campaigns to encourage our communities to Shop Local safely and support our local businesses.
" We have been encouraged by the enthusiasm and commitment of the businesses, communities and partners that have come together to work collaboratively to generate benefit of our local town centres.
"We would be extremely keen to ensure that this momentum is built upon and event-led marketing could play an important part in that if a joined-up approach is continued."