MSP meets Scottish Water to learn about Milngavie Reservoirs Investment Project
West Scotland MSP Pam Gosal visited Scottish Water to learn about the work it is doing around water safety and the Milngavie Reservoirs Investment Project.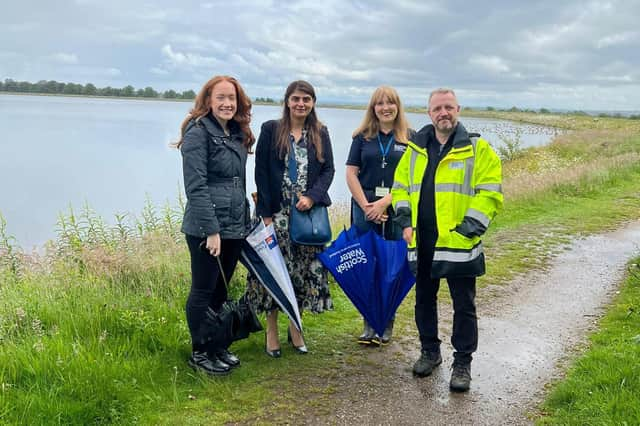 West Scotland MSP Pam Gosal MSP visits the Milngavie Reservoirs
Scottish Water is investing to improve signage to enhance water safety, upgrade water infrastructure and the footpaths around the Craigmaddie and Mugdock Reservoirs and more.
The project is set to begin later in the summer and will enhance the tourism experience, at the same time upgrading the vital water infrastructure.
This includes new pressure regulation valves and major upgrades and repairs to Craigmaddie valve tower, as well as plans for a new biodiversity garden.
Ms Gosal said: "This investment is great news for local tourism and water safety.
"Craigmaddie and Mugdock Reservoirs have been in need of new footpaths for some time, and this will make the experience for visitors better and avoid flooding.
"I was also happy to learn the plans include significant upgrades to the water infrastructure serving hundreds of thousands of homes.
"I look forward to seeing how the project from Scottish Water in Milngavie takes shape over the summer.
"If you are visiting, please remember to be responsible around water and stay safe."
Georgina Reid, corporate affairs manager for Scottish Water in the west, added: "We're set to begin a multi-million pound investment project at our Milngavie Reservoirs later this summer.
"With improvements to critical infrastructure planned at the site, our work will help improve service to around 700,000 customers across Greater Glasgow.
"And even more people will benefit from the work; the reservoirs attract thousands of visitors each year and many aesthetic improvements are planned as part of this investment.
"The footpaths around the reservoirs will be upgraded and a bio-diversity garden which has been designed in consultation with Friends of Milngavie Reservoirs will bring more colour to the site.
"We will do all we can keep any disruption to a minimum and work with the local community throughout.
"We're fully committed to maintaining and improving Milngavie Reservoirs and look forward to the investment getting under way."