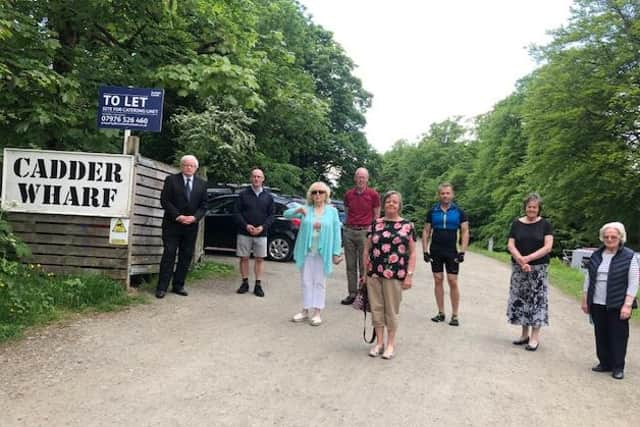 Concerned were raised when Scottish Canals placed an advertising board at the Wharf seeking applications from anyone interested in operating the unit.
A planning application from a proposed operator has now been submitted to East Dunbartonshire Council, requesting seven-days a week opening for the sale of hot and cold drinks and snacks.
The unit will be open from 8am-6pm in the spring/summer and 8am-4pm in the autumn/winter.
The applicant says they will provide bins, and pick up any litter in the surrounding area on a daily basis.
However, it has been met with protest from local residents and the Kirk Session of the nearby Cadder Parish Church.
Councillor Pews said: ''I have been inundated with emails from constituents against this proposal and I totally understand and support their objections on a number of grounds, mainly litter, anti-social behaviour and loss of parking spaces for visitors.
''The Wharf is in the Cadder Conservation Area and is a completely unsuitable location for such a unit.
"Despite the applicant's assurance they will clear any litter from the surrounding area, it is certain that some of it will inevitably be tossed into the canal.
''I am therefore very disappointed that for the sake of making a quick buck, Scottish Canals think it's acceptable to damage the environment of the very canal they are there to protect.''
Fraser MacKenzie, church officer at Cadder Church, added: ''This proposal is completely out of character for the area. I regularly have to pick up a mountain of litter from this site before our service each Sunday morning, and this unit would only make it worse.''
Margaret Crane, who lives just yards from the site, is also angry at the plans.
She said: ''Since lockdown last year we have been plagued with anti-social behaviour in this area and this unit would be another unwelcome attraction.
"Residents are furious that Scottish Canals have put this site up for rental and we hope the council will reject the application.''