Rikka's move from Finland to Fife signals a new start and business at the age of 60
​A woman who has moved to Fife from Finland says she is looking forward to the next stage of her life in Scotland.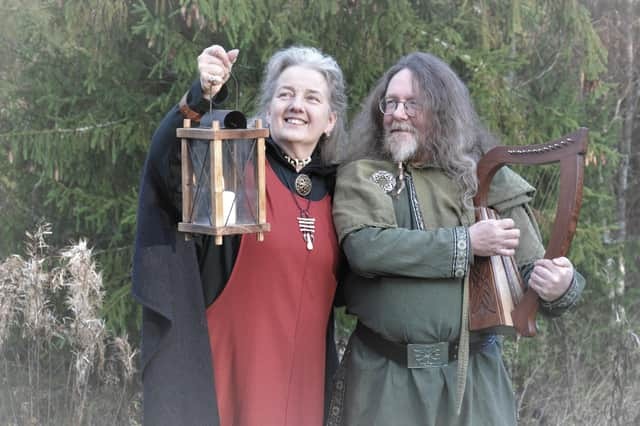 ​Riikka Palonen, is just setting up here as an artist, storyteller, weaver and bone carver. This is the story of a woman who chooses to move to a different land and culture at the age of 60 years.
She started life in a small village in Finland, where she discovered that books of folk tales offered her a passage to a different world, something that has been with her her ever since. She went through university studies in Helsinki to gain her Master of Arts, then travelled across Scandinavia to the Fish factories of Norway.
When she returned to Finland she spent 25 years raising Highland cattle in the Finnish woodlands. During that time she was no stranger to the cattle shows in the west of Scotland and found much affinity with the countryside and the people she met there.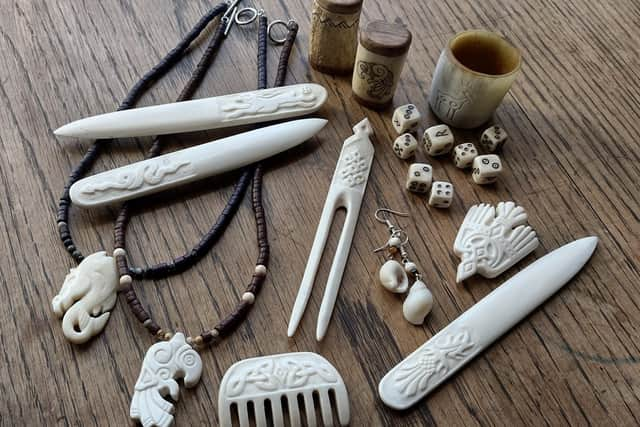 Cattle farming is heavy work and eventually she had to retire from that field and chose to return to working with the stories and art she loved in her youth. She lived several years in Finland making her living from her art and performances.
In time the twists and turns of fate offered her a chance to move to Scotland and she took that chance eagerly arriving in Fife after a three day sea crossing in July. So far she's not looked back - she loves Fife, with its history, countryside walks and beautiful coastline and has already begun to make friends and connections here.Her work is influenced by her life, her experiences and the traditions of the culture she grew up in. Rural Finland is still very much a hunting and farming culture and, as is common to many such cultures, when an animal is used for food, it is considered respectful not to waste any part of that animal. Riikka's work with bone and horn carving stems from this idea - zero waste. Recycling on the most essential level - throw nothing away if you can make it into something useful or beautiful... and she does!
She also makes a point of sourcing her raw materials from local farms which have a responsible and regenerative approach to farming, where the animals are well treated and live full natural lives - just as her own cattle did in Finland.
As a farmer she has lived in close harmony with the natural world, and seen the cycle of birth and death many times over.This, combined with her love of folklore can be seen in her paintings which mix the twilight beauty of the Northern birch forests, with ancient myths. As well as painting she also weaves her artwork in the style of traditional Finnish tapestry rugs known as "Ryijy"
Storytelling is a somewhat dying art in most parts of the world being replaced more modern forms of entertainment which are instantly available and leave little for the imagination to do. In Scotland however, like in some parts of Northern Finland, people seem to still have an interest in stories (beyond children's tales) and value the spoken word. Riikka's storytelling events combine traditional tales and folklore, with her own stories, based on her experiences .
Riikka's first storytelling and song event is coming up on November 10 and then "Old Yule Tales" just before Christmas (date still to be arranged) in Crail Community Hall. Riikka will also be displaying her hand carved bone jewellery at the Crail Christmas Market on December 2-3.