The academy has also become one of the first schools to renew its Vision Schools Scotland status, highlighting its commitment to good practice in teaching and learning about the Holocaust.
The initiative is delivered by Vision Schools Scotland, a partnership launched in 2017 between University of the West of Scotland (UWS) and the Holocaust Educational Trust, which is funded by the Scottish Government and the UK Department for Levelling-Up, Housing and Communities.
A Vision School is one committed to the view that learning about the Holocaust is a vital part of young people's education. To receive the award, schools must demonstrate their existing commitment to the importance of Holocaust education and to developing teacher knowledge to ensure continued expertise in this subject matter.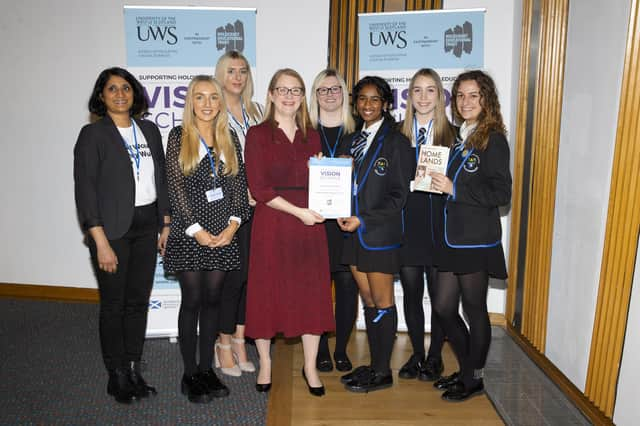 The Programme embeds responsible citizenship at its core, a key principle of Scotland's Curriculum for Excellence, as it encourages effective and sustained school-based Holocaust Education.
The celebratory event held at the Scottish Parliament was hosted by Jackie Baillie MSP and Jackson Carlaw MSP.
Ms Baillie said: "I would like to pass on my warmest congratulations to all the new Vision Schools for their outstanding work in Holocaust education. Vision Schools Scotland is a brilliant initiative that educates future generations about the horrors of the Holocaust in order to ensure that it never happens again.
"The programme has gone from strength to strength over the years and plays an important role in school-based Holocaust education. I would encourage all schools to sign up to the programme to get involved in this important work."
Mr Carlaw added: "Vision Schools Scotland is a wonderful education initiative and it has enriched the knowledge of young people across the nation on why we must never forget the lessons of the Holocaust."
For more information visit uws.ac.uk/visionschoolsscotland/