Bearsden teacher has raised more than £1200 in charity tribute to her late mum
Bearsden teacher Lynsey Grierson has raised more than £1200 for Scotland's largest health charity, Chest, Heart & Stroke Scotland, as a tribute to her mum, Adele.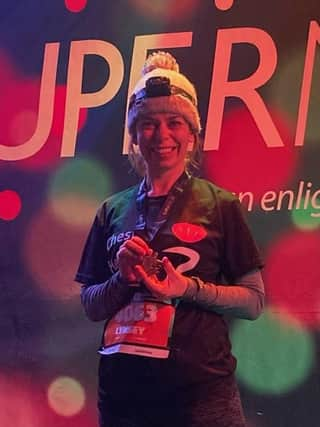 Lynsey, who is mum to two daughters and teaches at Milngavie Primary has completed a 10k and taken part in the Supernova Kelpies night race in 2021 and 2023 to raise money for the charity which supports those living with chest, heart and stroke conditions.
Lynsey said; "My mum was diagnosed with heart failure in 2016 after she contracted a virus when on holiday that attacked her heart.
"It took doctors a long time to diagnose the heart failure. She did get better for a while and was looking after herself really well, doing cardio classes and taking her medication.
"She continued to live her life to the fullest and in 2017 we went on holiday to Lanzarote as a family, which is a really lovely memory to have.
"The last time I saw my mum was the day before she died. She was the same cheery and wonderful lady as always.
"The day she passed away she had felt a bit sick that morning but had done her cardio class as usual and had looked after my eldest daughter that day.
"In 2019 I was turning 40 and looking for a challenge to improve my fitness and to remember mum. I decided to take part in a 10k to raise funds for Chest, Heart & Stroke Scotland.
"I wanted to give back to other people living with heart conditions, and I was encouraged that the money raised would stay in Scotland.
"Since then I have taken part in another two challenges for the charity, most recently running the Supernova Kelpies night race.
"It's a fantastic event with a great atmosphere. Running at night with the lights and music really make it special."
Louise MacLeod, Community, Events and Corporate Fundraiser at Chest, Heart & Stroke Scotland said: "Lynsey is truly is a fundraising hero and we are truly grateful
"The money raised by Lynsey in memory of her mum will allow us to provide essential support to the thousands of people across Scotland who are living with chest, heart and stroke conditions, ensuring that there is no life half lived."
You can donate to Lynsey's fundraising page at Lynsey Grierson is fundraising for Chest Heart & Stroke Scotland (justgiving.com).