Condorrat Primary shows they care about Ukraine with Enterprise Day fundraiser
A painstakingly arranged Enterprise Day at Condorrat Primary has raised an impressive £684 for refugees escaping from Ukraine.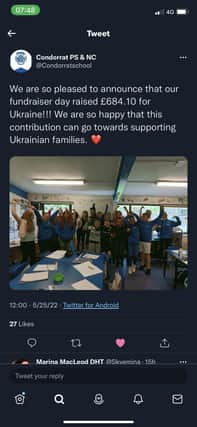 Attractions arranged by pupils included a face painting station and a bake sale. Youngsters also sold jewellery, keyrings and superhero figurines they had made.
Student teacher Azim Qadir said: "The children in my class P7E worked very hard in advertising, gathering feedback, creating their products. They came in early to set everything up. Even when it started raining, they didn't give up and helped move their stalls into the classroom and set up shop and continued with enthusiasm. I'm so proud of them."