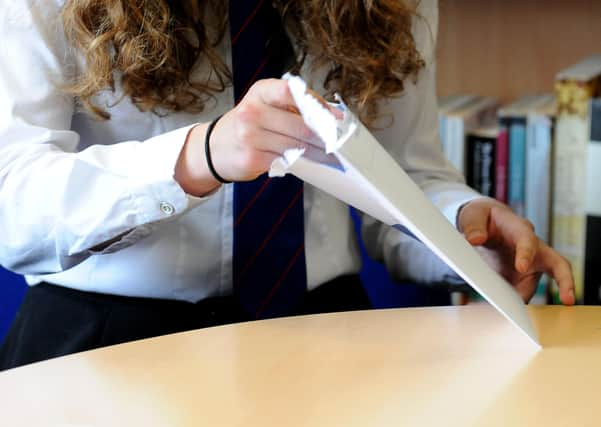 Thousands of children from across East Renfrewshire celebrated their results today (Tuesday 4 August), although in the most unprecedented of circumstances due to the impact of the global Covid-19 pandemic.
With the Scottish Government announcing in March that this year's SQA exams would not go ahead, it has meant a new experience for teachers and pupils to ensure that all the hard work and dedication which had already been put in was fairly recognised.
East Renfrewshire Council's Convener for Education and Equalities, Councillor Paul O'Kane, heaped praise on staff and pupils across the area for their resilience during these challenging times.
Councillor O'Kane said: "It has been a year like no other, especially for our pupils receiving SQA results today. No one could have foreseen the cancellation of the exam diet, however, it is absolutely right that our pupils' hard work and dedication has been recognised in today's results.
"All East Renfrewshire's schools have continuously improved teachers' skills in assessing pupil progress. As such our confidence in the rigorous, evidence based processes our schools have had in place for a number of years for pupils' estimates, combined with the knowledge that staff have of their learners, have ensured that the hard work of all our young people has been rightly and fairly recognised through the alternative certification model the SQA put in place this year.
"Staff, pupils and parents are to be commended for the resilience they've shown during these trying months and I'm delighted that the results awarded to pupils across East Renfrewshire are so positive. We have a track record of our pupils' delivering excellent exam results and our constant drive to achieve equity and excellence has stood today's pupils in good stead under these most unusual circumstances. Well done to everyone receiving results today and we look forward to returning to school next week."
Key achievements include:
• 77% of S4 pupils achieved 5 or more qualifications at National 5 or better (similar to the previous year and the second best performance to date)
• 94% of S4 pupils achieved 5 or more qualifications at National 4 or better (similar to the result at this stage last year)
• 21% of S4 pupils achieved 8 or more grade A passes at National 5 (301 pupils).
• Woodfarm High School and Eastwood High School achieved their best ever S4 results. The proportion of S4 pupils in St Ninian's High School who achieved 5 or more awards at National 5 also increased and was the second highest result ever.
• 85% of S5 pupils achieved 1 or more Highers (up from 81% last year)
• 69% of S5 pupils achieved 3 or more Highers (up from 66% last year)
• 46% of S5 pupils achieved 5 or more Highers (up from 44% last year)
• Barrhead and Woodfarm High Schools had their best results for 1 or more and 3 or more Highers, whilst Eastwood had its best ever S5 results across all the key measures.
• 222 young people across the authority achieved 5 or more Highers at grade A in S5.
• 42% of S6 pupils achieved 1 or more Advanced Higher awards - the area's best ever performance (up from 40% last year)
• Mearns Castle High School High had their best ever results for the proportion of S6 pupils achieving 1 or more Advanced Highers.
Mhairi Shaw, Director of Education at East Renfrewshire Council, said: "We have put in place the processes and procedures to ensure that we are able to support pupils at every step along their educational journey. Our focus on providing excellent experiences is clearly having an impact as year after year our pupils continue to produce outstanding results.
"It has certainly been a year we will never forget, but I'm delighted and confident that our systematic approach to supporting pupils has ensured that their achievements have been fairly recognised in today's exam results.
"These results are testament to the hard work of pupils, teachers and parents and I congratulate you all.
"It's also extremely pleasing that once again we have successfully tackled the poverty related attainment gap. This year there was a significant increase in the proportion of S5 pupils from the most deprived areas achieving one or more Highers, and improvements in the gap between pupils from the most and least deprived areas who achieved 5 or more National 5 qualifications in S4."