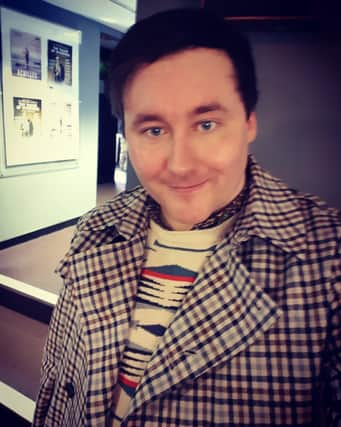 ''Happiness is Wasted on Me'' is the first novel aimed at an adult audience by Kirkland Ciccone and it will be unveiled at the backdrop of the library next Thursday (October 29).
The launch will see the former Cumbernauld High School pupil discuss the book with librarian Gillian Hunt.
Kirkland said: "Doing the launch digitally means everyone can watch from the safety of their kitchen.
"It'll be beamed live from the empty library at 7.30pm. There are three types of ticket and I hope people pop onto Facebook Live and tune in."
For more information on how to do this, see https://www.facebook.com/events/3236795173110524 or
https://www.fledglingpress.co.uk/event-details/kirkland-ciccone-happiness-is-wasted-on-me.
Meanwhile it has emerged that Kirkland is hosting his own show on Cumbernauld FM.
He said: "It's called "The Best Book Review Show Ever" and it is going to be happening each Sunday for an hour. It'll have interviews, and general gossip about the industry. With luck it'll be fun. The first episode should start at the end of the month."
'Happiness is Wasted on Me' is actually the second novel about Cumbernauld published this year - the first was "The Fenian" by Mike Kernan who has also appeared on the station.