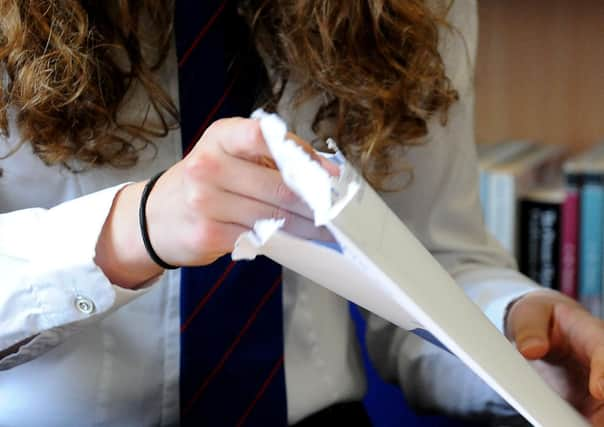 With exams cancelled due to the pandemic, schools submitted estimated grades for pupils who would have been sitting National 5s, Highers and Advanced Highers this year.
These estimated grades were based on coursework, teacher professional judgement and the grades that the school had already predicted for each pupil.
Early analysis shows that overall, the picture in East Dunbartonshire remains strong with an increase in attainment at almost all levels:
· In S4, there is a 3.8% increase in the number of pupils achieving five or more National 5 passes.
· In S5, there is a 0.1% increase in the number of pupils achieving one or more Higher, a 2% increase in those achieving three or more Highers and a 2% drop in those achieving five or more Highers.
· In S6 there is a 5.3% increase in the number of pupils achieving three or more Highers and a 4.7% increase in those achieving Advanced Highers.
Due to the unprecedented circumstances around the 2020 SQA results, a new appeals process is in place for those pupils who do not achieve the target grade set by the school.
The process involves pupils who didn't get the results expected, contacting their school to request that the school lodge an appeal on their behalf. If the awarded grade is lower than that submitted by the school to the SQA, then an appeal can be submitted.
Joint council leader Vaughan Moody said: "The situation faced by young people who should have been sitting exams this year has been incredibly difficult.
"They have shown exceptional resilience amid turmoil at what is an important stage in their lives and I want to recognise that. I want to pay tribute also to staff in our schools who have worked tirelessly in uncharted waters with the SQA and to support pupils.
"I'd like to offer my congratulations to those who received the results they were hoping for and offer hope to those who did not. Results day is never the end of the road as there is always support available and many paths open to you."
The Skills Development Scotland Exam Results Helpline 0808 100 8000 is open from 8am-8pm today and tomnorrow (Wednesday) for pupils who wish to speak to qualified careers advisers.
On Thursday and Friday the line will be open from 9am-5pm.
Joint council leader Andrew Polson added: "This year has been exceptionally challenging for pupils, their families and teachers. While these initial results show that there is much to be proud of, there will be young people who are disappointed and unsure of what the future holds for them.
"I urge them to talk to their teachers and seek as much support as possible as soon as possible and they will very quickly realise that there are many open doors and many routes for them to follow to reach their goals. Their hard work will pay off and the skills they have developed thus far will enable them to find the right path towards their future career."