The SNP MP for East Dunbartonshire was taking questions from S5 and S6 modern studies pupils at the Bishopbriggs school, speaking about everything from parliamentary scrutiny to life as an MP.
Schools are encouraged to promote participation in "political, economic, social and cultural life" as part of Curriculum for Excellence, with a key theme to encourage young people to become "responsible citizens".
Ms Callaghan said she was "excited" to take questions from pupils, and she pointed to the importance of engaging young people in politics.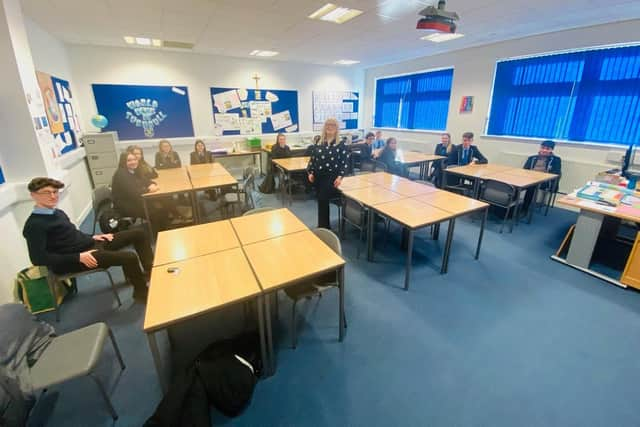 Over recent months, Turnbull High School has run several projects to promote parliamentary democracy, including running an electoral registration in the school lunch hall for all eligible pupils.
Young people can vote in Scotland from the age of sixteen, although the age remains eighteen for UK elections.
Commenting, Ms Callaghan said: "Young people can vote from the age of sixteen in Scotland.
"That's why it's so important we speak to our younger constituents to hear their views, answer their questions, and encourage them to play an active role in political life.
"In fact, young people are often highly engaged in local issues, and they are affected as much as anyone by challenges like the cost of living crisis.
"As anyone who spends any time with young people will tell you, they're not afraid to speak their mind.
"That's exactly how the session went, and I hope the S5 and S6 pupils left knowing a bit more about the intricacies and challenges of being an MP.
"It was great to see the fantastic work that is going on at Turnbull High School, and I would love to return soon to face another grilling."
*We love to find out whats going on in the area. If your school has an event – or a special guest – then please let us know so we can feature it in the paper. Email [email protected] or call 0750 6948694.