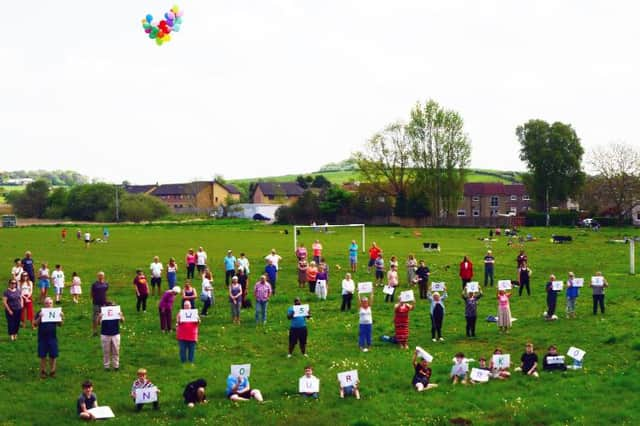 The council approved the planning application for the new school and community facility at the end April and the decision is now awaiting the approval of Scottish Ministers.
The new facility will replace Campsie View and Merkland Schools with one state-of-the-art school while at the same time seeking to improve community facilities.
Residents are not against the building of a school, but are up in arms about the loss of their football pitch, and believe the former Auchinairn Primary site should have been chosen which the council also found to be 'feasiible and suitable'.
A socially distanced picnic was held on Waterside park, but it was clear this was no social gathering as banners proclaimed "New school, yes. – On our park, no."
Balloons overhead showed the height of the proposed new school, as instead of a view towards the Campsies some residents will be staring at a wall 45 feet high by 295 feet long, fencing and a large car park.
A spokesperson for the community council said: "It is so wrong and completely contrary to both Scottish and local government policy that the council should build on a community's only park.
"This is vital green belt and open space, they could have used the former Auchinairn Primary instead of selling it off to a private developer.
"In January 2019 the Scottish Government noted 'the level of concerns' and encouraged the council to 'work with all its communities to ensure that the best possible site was identified and developed in a way which recognises the needs of all those in the area'.
"Despite this, on March 30, following a predetermination hearing made necessary by the proposals being 'significantly contrary to the local development plan', the council voted to proceed with Waterside.
"We now hope Holyrood will come to the rescue and make the council find a better site – one which can accommodate a single-storey building as originally intended, does not have worrying traffic implications, deprive a community of its only event space or ruin the setting of a beautiful semi-rural village."