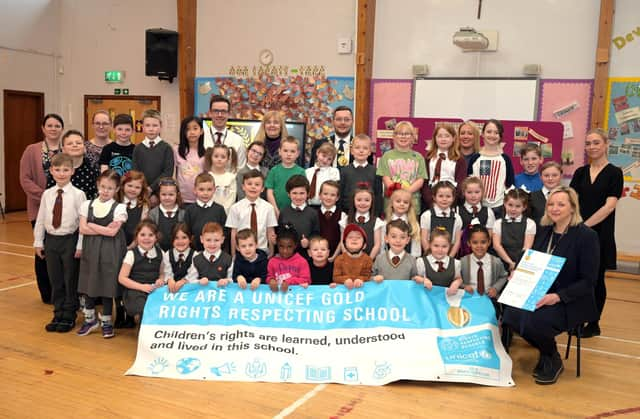 Holy Cross Primary School and Nursery class in Croy are celebrating achieving the ultra-coveted UNICEF UK Gold Rights Respecting Schools Status.
The elite award highlights that the school and nursery are fully upholding children's rights throughout its policies, practices and ethos.
It also encourages youngsters to respect the rights of the wider community, including the busy parish nearby.
Provost Kenneth Duffy Convener of Education and Families and Councillor Angela Campbell travelled to the school to congratulate the pupils and staff on this enormous accolade.
The Provost said: "On behalf on the council, I'd like to congratulate all the pupils and staff on this wonderful achievement.
"A huge amount of hard work and effort has been required to achieve the gold status and everyone associated with the school can feel very proud of this award. Well done to everyone in making children's rights priority at the school and within the wider community."
The school has stressed that this was the result of involving everyone with a connection to the school.
Marie Murphy, Head Teacher said: "We were delighted with the feedback received in the report from UNICEF and in particular the praise for the children and their knowledge and understanding of their rights.
"The assessors also commended our engagement with parents, including our 'curry and curriculum' sessions which were very well received.
"We were also pleased the report recognised the hard work of all the staff at the school and nursery and the range of participation opportunities that were available to the children. Ensuring we put children's rights at the heart of everything we do at the school is crucial.
"I want to say a massive thank-you to all the parish, pupils, parents, carers and our wonderful staff for achieving this award.It really has been an outstanding team effort."
The Cumbernauld News and Kilsyth Chronicle would like to congratulate Holy Cross Primary on its award.