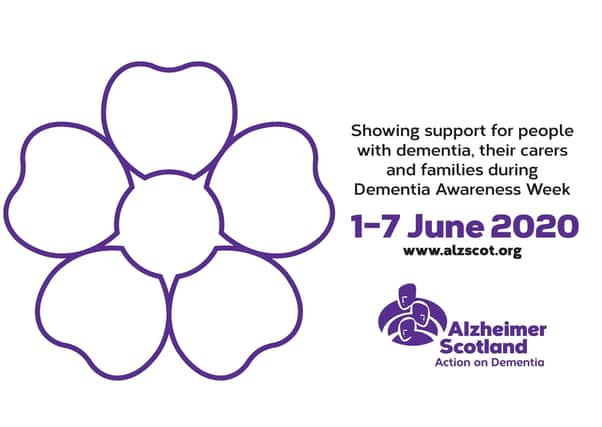 Alzheimer Scotland wants to let people know it is still here and that its priority remains to ensure nobody faces dementia alone.
Lockdown has been particularly challenging for many of the people the charity supports, and its staff are doing everything they can to make sure local services and structures remain in place to help minimise the impact of this.
Alzheimer Scotland wants to make sure that people living with dementia in Scotland continue to have access to the support they need and deserve.
Dementia is not on lockdown. Social isolation, loss of networks and disrupted routines will be a huge challenge for those people living with dementia and their carers during this crisis, particularly since they will face restrictions for an extended period of time.
Alzheimer Scotland has adapted how it works as a charity to boost its 24/7 Freephone Dementia Helpline capacity and deliver online support groups, digital reminiscence therapy sessions and virtual Dementia Advisor 'visits' to ensure that no one is facing this crisis alone.
If you have the chance to get involved in any way, online or in person, please support Dementia Awareness Week by following the conversation on social media (#DementiaAwareness) and reach out to your fellow citizens living with dementia and their carers.
Locally, you can get involved online as follows:
• Football Memories Virtual Group, 2.00pm – 3.00pm
• Occupational Therapy Info Session, 11.00am - noon
• East Renfrewshire Online Quiz, 7.00pm – 8.00pm
• Memory Lane Virtual Tea Party, 1.00pm - 2.00pm
• Come Zoom With Me Singing Group, 3.00pm – 4.00pm
• Carers Centre support group, 1.00pm – 3.00pm
• East Renfrewshire Carers Social Catch Up, 1.30pm – 2.30pm
• Physiotherapy Info Session, 11.00am – 12noon
• Beer with Buddies Quiz, 2.00pm – 3.00pm
If you have any questions about dementia, or want to find out about support in your area, call Alzheimer Scotland's 24 Freephone Helpline on 0808 808 3000.
Join the Dementia Awareness Week conversation on Twitter with @alzscot using #DementiaAwareness