We will be providing live updates until 6pm this evening.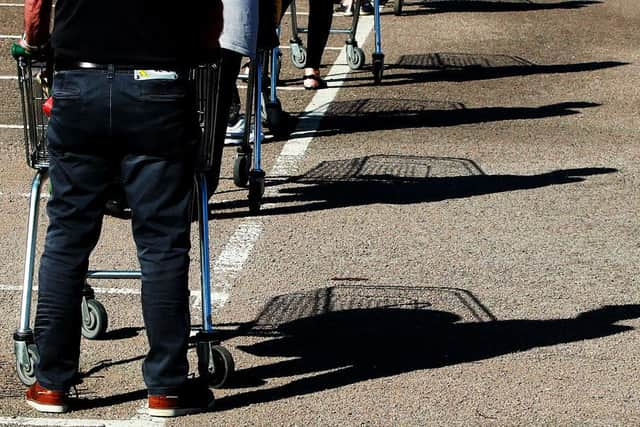 Coronavirus live blog, April 23
Show new updates
'It makes complete sense to wear masks in order to protect other people'
The chairman of the Royal College of General Practitioners has said it makes sense to advise the public to wear masks on a voluntary basis.
Professor Martin Marshall told BBC Radio 4's Today programme: "If [people] are coughing and spluttering then it makes complete sense to wear masks in order to protect other people."
However, he also warned that "there's no research evidence to support wearing masks if you are basically fit and well.
"Indeed if people wear masks there's a risk they play around with it, they play with their eyes more and maybe you're even at a higher risk of picking up an infection.
"I think the guidance that we're expecting to hear is that the wearing of face masks is a voluntary activity not mandated and it certainly makes a lot of sense to focus limited resources that we have at the moment on those who have greatest need and that's the health professionals."
Nurse who treated Boris Johnson: 'Apparently I'm a celebrity now'
One of nurses praised by Boris Johnson for their care during his treatment in St Thomas' Hospital has spoken of his pride after the Prime Minister thanked him for saving his life.
Luis Pitarma from west London, but originally from Portugal, said he had also been thanked by Portuguese president Marcelo Rebelo de Sousa, adding: "Apparently I'm a celebrity in Portugal now."
Pitarma, who has worked at St Thomas' for nearly four years, said: "I was changing into scrubs before my night shift when the matron called me over and told me the Prime Minister was about to come to ICU. They were confident I would cope with the situation well.
"I felt nervous at first - he was the Prime Minister. I didn't really know how to address him. My matron reassured me and said to be myself like I am with any other patient.
"I asked how he would like to be addressed and he said to call him Boris. That made me feel less nervous because he took away any formality. He just wanted to be looked after like anyone else."
More than a quarter of Britain's workforce has been furloughed
27% of Britain's workforce was furloughed across 6,150 businesses that were still trading or who had paused trading by April 5, according to a survey by the Office for National Statistics (ONS).
The ONS said less than 1% of the workforce had been made redundant across these firms.
But it added that as many as 78% of staff were furloughed in firms polled that had temporarily closed or put trading on hold between March 23 and April 5.
P&O Cruises suspends sailings until at least the end of July
P&O Cruises and Cunard have announced they have extended the suspension of sailings until at least the end of July.
The cruise lines had previously cancelled all trips up to May 15.
P&O Cruises president Paul Ludlow said: "With the current lockdown in place and Government guidelines around the world advising against travel, it is necessary to extend the pause in our operations for all sailings up to and including July 31 2020.
"We are so sorry not to be able to give our guests amazing holidays at the moment, but we will do so as soon as global guidelines will allow."
Nearly half of all European coronavirus deaths were in care facilities
Nearly half of all people who died with coronavirus in Europe were residents in care facilities, the World Health Organisation's regional director for Europe has said.
Dr Hans Kluge told a press conference there was a "deeply concerning picture" emerging regarding those in long-term care.
"According to estimates from countries in the European region, up to half of those who have died from Covid-19 were resident in long-term care facilities. This is an unimaginable human tragedy."
Public wearing of face masks deemed "perfectly reasonable"
The wearing of face masks or coverings by the general public has been deemed "perfectly reasonable", a GP leader has said, after England's deputy chief medical officer admitted the subject is a "difficult issue".
So far, ministers have rejected calls to recommend wearing face masks outside of healthcare settings, despite other countries, including the US and Germany, advising people to do so.
Studies have shown mixed results in regard to their effectiveness in protecting healthy people, with concerns they could actually lead people to touch their faces more, and thereby increasing their risk of infection.
The government's Scientific Advisory Group for Emergencies (Sage) is expected to discuss the issue at its regular Thursday meeting, with a decision from ministers expected soon.
Advice on wearing of face masks by public finalised
The government's scientific advisers have now finalised their advice on the wearing of face masks by members of the public, Downing Street has confirmed.
The Prime Minister's official spokesman said the Cabinet was told on Thursday (23 Apr) that the recommendations of the Scientific Advisory Group for Emergencies (Sage) has now been submitted for ministers to consider.
A decision based on the advice is yet to be announced by the government.
He said: "They have finalised their advice. Ministers will now be reviewing this to decide on any further action that might be needed."
More than 600 deaths recorded in last 24 hours
The Department of Health and Social Care (DHSC) has said a total of 616 more people have died of coronavirus in the last 24 hours, bringing the overall UK total to 18,738.
In a statement, the DHSC said: "As of 9am 23 April, 583,496 tests have concluded, with 23,560 tests on 22 April.
"425,821 people have been tested of which 138,078 tested positive.
"As of 5pm on 22 April, of those hospitalised in the UK who tested positive for coronavirus, 18,738 have sadly died."
The number of deaths marks a slight decline from Wednesday's (22 Apr), which saw 759 recorded.