We will be providing live updates until 6pm this evening.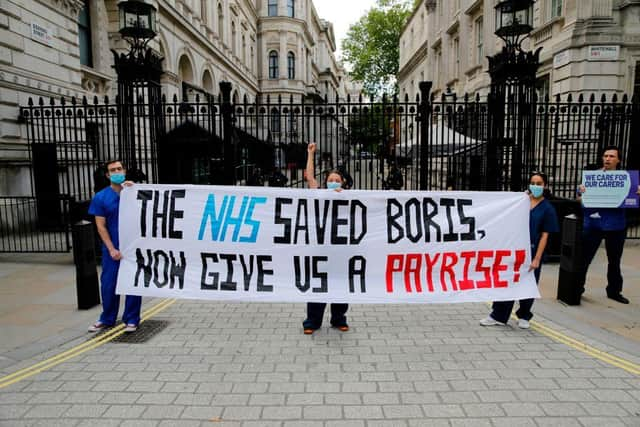 Coronavirus live blog, May 13
Show new updates
That concludes today's daily press briefing and today's live blog.
Jenrick is asked if the government would continue to furlough citizens of Scotland, Wales and Northern Ireland if there lockdown was to continue longer than England.
Jenrick says the chancellor has announced that it has been extended until October. He says that gives a lot of advance notice to employers. The Chancellor will continue to engage with devolved ministries.
Harries says its very likely that some care home patient deaths that haven't been listed as covid-related may also have died due to the respiratory disease.
Dr Harries is asked whether it is more dangerous for children being in school than at home.
She says children are going to flourish at schools. Improtant to remember wider publich health issues. Important that early years pupils don't miss out on education as this can impact long-term health.
Risk of transmission can be higher at home. Overall children appear to have less severe disease and are not transmitting disease more than adults.Younger children a safer group.
Another questions highlights the country' deficit increasing to 337bn and asks if Jenrick could rule out the raising of taxes.
Jenrick says those are matters for the Chancellor. He says the Chancellor was very clear yesterday stating that Covid-19 was having a profound impact on the economy.
All measures introduced by government designed to protect businesses and workers.
Jenrick is asked if teachers will be fined if they don't return to school.
Jenrick says the education secretary is working closely with teaching unions to ensure that teachers are happy to return.
On availability of death data, Dr Harries says she is delighted to discuss statistics on whatever occasion is necessary. She says data is available in public and says there are a lot of facets to understanding death data.
She says international comparisons are difficult because rate of testing are difficult. The only really good comparison will be to look back at all cause mortality. This will need to be adjusted depending on the age of the population.
Probably 12 months before you can carry this out.
Jenrick is asked if he thinks it's strange that international comparison has been removed from daily slides. He says UK government among most transparent on data, but points to international comparison's aforementioned shortcomings.
Jenrick is asked why is the government unable to control the crisis in care homes.
Jenrick highlights extra financial support for care homes and says that the government will continue to ensure care homes receive sufficient PPE and testing.
Dr Harries adds that it is important to remember that if a patient has gone into a hospital and recovered they will still be listed as positve.
He says there is more that we can do and he says full focus needs to be on protecting those in care homes.
Jenrick and Dr Harries are taking questions now.
First a member of the public asks how the culture industries will be protected while not earning.
Jenrick highlights the furlough scheme and the treasury scheme for the self-employed which launched today.
Culture Secretary also working closely with main cultural institutions.
Dr Jenny Harries is now talking us through the daily slides.
She says that tests carried out is now over 2 million.
She says fewer patients are coming into hospital nowand just 21% of critical care beds are occupied by Covid patients.
She says the downward trend of deaths is continuing.
Jenrick praises Taylor Wimpey who have restarted their operations, taking their staff off the government's furlough scheme.
Also highlights that the housing giant are offering a 5% discount to NHS staff on their properties.
He says "today we reopen" the housing and construction industry.
He is going into further deal about the reopening of the housing market. These rules only apply to England.
He says the pressure to move for some was "becoming acute".
He says for some moving home is not a luxury. The changes being made are being carried out safely, with all parties observing health mesasures and social distancing guidelines.
He addresses a criticism asking why house viewings are allowed but not the visitng of family.
He says that first viewings are virtual and all parties should carry out strict social distancing and windows should be opened among other measures. All involved in the process should wash hands on entering the property.
There are exceptions. Those self-isolating should not let people into their home.