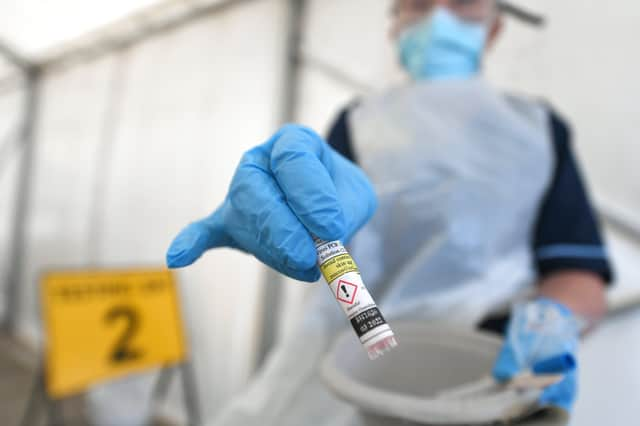 The bulk of the other centres are at Scottish airports but the central and spacious nature of the wider sporting facility was deemed as an apt choice for the centre -which joins an existing walk-in centre at Fleming House car park which has been operational for more than two months. The latter is one of 27 such sites in Scotland.
The scheme has been orchestrated by the UK Goverment and its Health Minister Lord Bethell said: "To respond to the coronavirus, we have built a major testing and tracing system from scratch. We are constantly working to expand and improve it with new technologies and innovations so everyone with symptoms can get a test"New drive-in sites like this one makes it even easier to get a test no matter where you live. If you have symptoms of coronavirus, I urge you to book a test today and follow the advice of NHS Test and Protect if you are contacted to protect others and stop the spread of the virus."
Gabe Docherty, Director of Public Health, NHS Lanarkshire said:"The public health department continues to contact-trace positive cases and clusters in our community and this addition to the UK testing provision is welcome."I want to thank the public for their co-operation in reducing spread of the virus and ask that they please remain vigilant.
UK Government Minister for Scotland, Iain Stewart said: "Testing continues to play an important role how we manage the virus alongside the roll out of vaccines, helping to identify local outbreaks, slow down the rate of transmission and protect communities. I would like to thank the public for continuing to do the right thing and come forward to be tested when they display symptoms.
"The UK Government continues to provide the bulk of testing in Scotland, with this new drive-through centre in Cumbernauld just the latest in our extensive network. We have also secured and paid for millions of doses of the Pfizer and Oxford vaccines for all parts of the UK.
"Hope is on the horizon, but we can't let up on our efforts to contain the virus."
"Tests at either centre must be booked in advance at: www.nhsinform.scot/test-and-protect or by calling 0800 028 2816.
People should only book at test if they have coronavirus symptoms (a high temperature, a new and continuous cough, or a loss or change to their sense of smell or taste,
Those visiting the town centre site are expressly asked not to travel there by taxi or public transport.