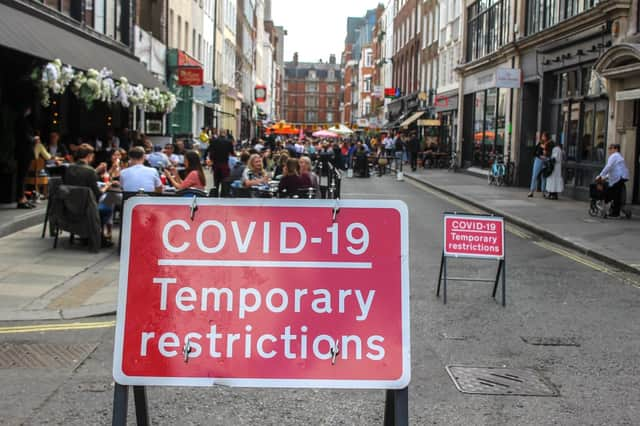 Lockdown measures may need to be reintroduced if there is a rapid spread of Covid variants, a scientist advising the Government has said.
Surge testing is currently taking place in parts of London after a rise in people contracting the coronavirus variant first identified in South Africa.
Professor Peter Openshaw said his fellow scientists were "very concerned" after the cluster of cases of the variant were found, with 44 confirmed cases of the strain predominantly found in the Wandsworth and Lambeth boroughs.
A further 30 suspected cases have also been found, the Department of Health and Social Care (DHSC) said.
Dozens of people in the area are now self-isolating, with people aged 11 and over who live, work or travel through these areas also being urged to take a Covid-19 PCR test, as well as using twice-weekly rapid testing.
NHS Test and Trace is also providing additional testing in an area of Southwark, where a case linked to the other cluster has been identified.
'It may well be that we are going to have to put the reductions of lockdown into reverse'
Prof Openshaw, a member of the Covid-19 clinical information network, said the easing of lockdown measures may have to be reversed if there's a "rapid spread" of Covid variants.
He told BBC2's Newsnight: "A lot of we scientists are very concerned about what's happening at the moment.
"I think we're all just hoping that the staged reduction in lockdown is going to be ok. It is being done reasonably cautiously but I think this is not good news.
"If we get rapid spread of the South African or other more resistant variants, it may well be that we are going to have to put the reductions of lockdown into reverse."
There have been 533 genomically confirmed cases of the South African variant in the UK and another 11 probable cases, according to Government figures.
However, speaking at 10 Downing Street on Tuesday (13 April) Prime Minister Boris Johnson said that as lockdown measures begin to be eased, "the result will inevitably be that we will see more infection, sadly we will see more hospitalisation and deaths, and people have just got to understand that."
The Prime Minister also added that he couldn't currently see "any reason" to change the roadmap for easing lockdown restrictions in England, with the next stage set to see restaurants and pubs able to resume indoor service from 17 May.