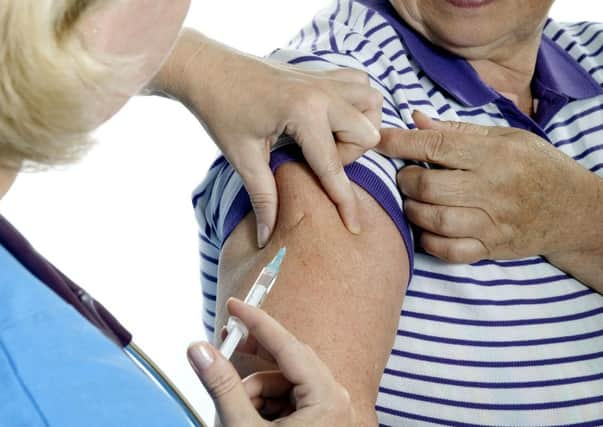 While some younger people have already received their flu jab, pensioners in their 80s have been told they will have to wait.
This is despite them being most at risk of hospitalisation from a double whammy of flu and 
covid-19. One was told she may not receive the jab until early next year.
NHS Greater Glasgow & Clyde health board has taken over responsibility this year from GPs for delivering the winter flu vaccine in conjunction with the local Health and Social Care Partnership. People are being vaccinated at hubs at Kirkintilloch Town Hall, Milngavie Town Hall and Bishopbriggs Memorial Hall.
The health board said letters would be sent out to those 
eligible. But one woman in Kirkintilloch said: "The delays and communication to the over 80s has been appalling. My parents and in-laws have been told they just need to wait their turn."
Another said: "I am nearly 60 and suffer from COPD. I 
arranged to have the jab at the end of this month.
"However, when I asked about my 83-year-old mother, who has heart disease, asthma and diabetes, I was told letters were being sent out by age, starting with the youngest first. Absolute disgrace."
A 28-year-old woman in Milngavie with mild asthma
received a text at the beginning of the month to book an appointment for the jab.
She said: "I think it's very unfair that older people, many who also have underlying conditions, have to wait so long."
A spokesperson for NHSGGC said: "We have already had thousands of people issued with their appointment letter. Anyone who has not yet received it will get it over the next 3-5 weeks."
Linda Bauld, professor of public health at Edinburgh University said a system
 inoculating the oldest last 
"really needs to be rethought".
West of Scotland Scottish Green MSP Ross Greer who lives in Bearsden, told the Herald he has written to the Scottish Government's Health Secretary over the debacle.
He said: "The winter flu jab rollout was always going to be hard this year but what's transpired so far just isn't good enough.
"The distances many have been asked to travel to get the jab, at a time when vulnerable people are encouraged to avoid using public transport, are just unacceptable.
"My team have been in touch with the Health Secretary and with NHS Greater Glasgow and Clyde, asking for an urgent update on what they are doing to fix this situation.
"Hopefully we'll get that update and confirmation of new arrangements in the next few days."