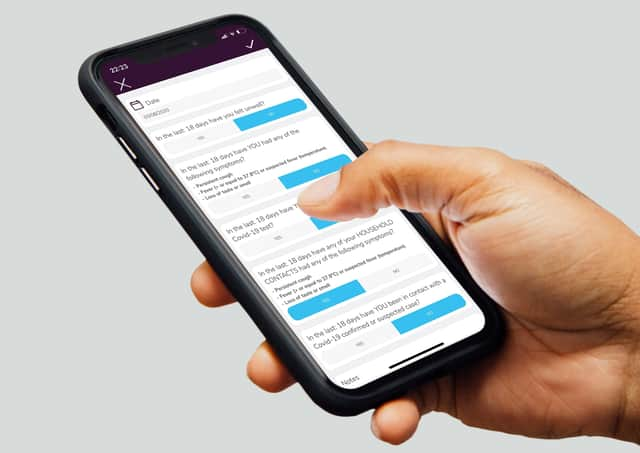 Dr Jonny Gordon from Giffnock co-founded ScribePro, an online screening portal which enables players, staff and officials to report symptoms to the medical departments of their clubs and the Scottish FA during international gatherings.
ScribePro Team App but has been piloted at the National Performance Centre on a daily basis this week. It has been made available to all 42 professional Scottish clubs to use for free until the end of January 2021 and will be rolled-out across Scottish sport and beyond as part of the company's ambitious plans.
Each morning, the app invites players and backroom staff to update information via phone which is then automatically stored on to their personal medical records and shared with the respective medical teams to provide accurate up-to-date screening information and contact tracing.
The additional Covid-19 screening tool is also available at no charge to the clubs other than to cover the cost of the text message alerts to the players. This innovation is squarely aimed at assisting the clubs target the safe return of football.
Dr Gordon, national team doctor, said: "As a clinician first and foremost, I am delighted that we have created something to help safeguard player health through the daily screening of all players and essential staff at football clubs. The collaborative approach and support from the Scottish FA to help drive the safe return to play of all Scottish league clubs has been absolutely fantastic.
"We believe our Team app is revolutionary in linking clinicians together to see and report in real time the player's medical interactions, the medications they are prescribed as well as updates on treatments and consultations. It can be used by any team at any level and in any sport and with the added feature of Covid-19 screening it provides a secure tracking system protecting the welfare of players and staff at club and national level."
Graeme Jones, Scottish FA Head of Performance, added: "ScribePro has become a vital tool for the medical and performance departments during this camp and will be a feature throughout the international campaign. We have worked hard to ensure the safety of the national team is paramount and the ability to access screening information is imperative.
"We have utilised a new scheduling tool, Kairos, to make sure all relevant information is available digitally to minimise contact and ScribePro Team gives us the confidence to work safely with the squad throughout the international camp at our Oriam base and, even more importantly, when we prepare to travel to Czech Republic."
Scotland host Israel tonight (Friday) at 7.45pm in the opening match of the Nations League.