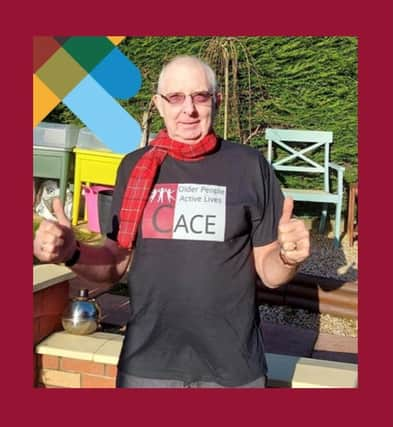 Venturesome Ian Wells had planned to be the first ever Kiltwalker to raise cash for Cumbernauld Action For Care of the Elderly - or CACE- but fate intervened for the Whitelees Road resident who is both a trustee and volunteer driver at this good cause.
A summer camping trip last year with wife and fellow CACE volunteer Norma went wrong after Ian seemingly picked up the virus on the site –after several months of lying low in line with lockdown rules.
Being asthmatic, the cough he picked up proved to be that bit more problematic and he spent four days in hospital - and has taken several difficult months for his fitness levels to return.
The couple have been isolating and haven't been able to see their children and grandchildren but are doubly determined to take on the Kiltwalk next month which is being staged in a virtual way - in a quest to boost the coffers of CACE.
And mood-boosting daily walks with a bit of a fresh air and a change of scenery are helping them prepare for the ultimate goal of walking along their own chosen route - on the banks of the Forth & Clyde canal through Bonnybridge to the Falkirk Wheel.
And the fact that Ian has had his first vaccination has empowered him to press on and meet his goal head-on.
Ian said: "I believe that it is important to try and stay healthy, and Kiltwalk is a great opportunity to do that, keep fit whilst helping others who may not be as able as you".
Ian hopes that others will join him in taking part in the Kiltwalk on behalf of CACE, and he urges people to register or sponsor someone doing it
He added: "I can't imagine how much harder this past year must have been for our service users, how lonely, but CACE haven't been able to run any face to face groups for a year.
"So they need to fundraise to help our people continue to have services to attend".
Anyone wishing to sponsor Ian can do so viahttp://www.justgiving.com/ScotlandsVirtualKiltwalk2021-IanWells