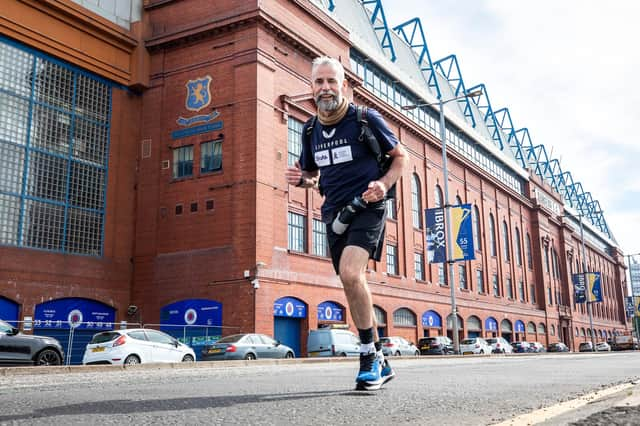 The Rangers-daft dad set off from Ibrox Stadium on June 2 with the intention of running to Anfield Stadium in Liverpool and back to raise funds for the Stroke Association and The Rangers Foundation.
David was rushed to the Royal Infirmary on December 8 after suffering an Ischemic stroke, caused by a blockage in an artery that supplies blood to the brain.
The 55-year-old lost his ability to speak, but within three days was running up and down the stairs and was able to leave hospital after 15 days.
Just eight weeks later David, who gave up drinking and smoking in 2014 to concentrate on running, was able to run a marathon.
While the stroke has left David struggling to read and write due to Aphasia, he admits he is luckier than some.
The washroom services worker has done similar running challenges in the past and decided running from Ibrox to Anfield would be a fitting tribute to title-winning manager Steven Gerrard who was a legendary player on Merseyside.
David said: "I had a Ischemic stroke on December 8 and after 24 hours of touch and go I survived – I knew I was going to be okay but I couldn't actually speak to tell the people around me.
"Three days later, I was up and walking about, running up and down the stairs. I was told I was supposed to be in for a month but I was able to leave after 15 days.
"I believe my fitness pulled me through, I knew I had to have a plan to beat this stroke, I wanted to run it off.
"I've been lucky, but not everyone is the same so I'm doing this run in support of the Stroke Association who do wonderful work for those less fortunate than myself.
"I'm also running for my usual charity the Rangers Charity Foundation who help a number of different charities including Unicef.
"Going to Liverpool and back is in tribute to Steven Gerrard who delivered the 55th league title and got me through my darkest days."