NHS Greater Glasgow & Clyde's 'milk bank' now has over 2300 donors and just celebrated its 10th birthday
NHS Greater Glasgow and Clyde's Milk Bank is 10.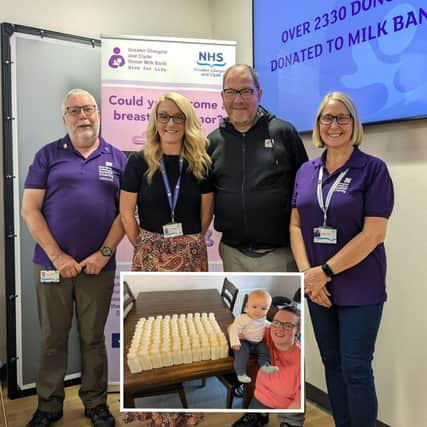 That means the vital service has been at the forefront of helping to change the lives of mothers, families and their infants for a decade.
Based at the Queen Elizabeth Hospital, the national service provides donor human milk (DHM) to a milk bank by mothers who have extra to spare.
And the service marked its anniversary last Tuesday (June 27), bringing together donors and staff who have contributed over the years.
Donor coordinator Debbie Barnett told us: "It was really lovely to see everyone and a great way to celebrate and reflect - to celebrate how far the service has come and to reflect on all of the families we have helped over the years.
"For me the most important thing is how the service has grown organically over time. Another big thing is how widely recognised donated human milk is becoming, it's more accepted and people are becoming more aware of the impact it can have."
Starting out at Yorkhill Children's Hospital, becoming a national service in 2013, the milk bank has continued to grow thanks to the incredible dedicated team of staff, volunteers and donors, alongside the Glasgow Children's Hospital Charity, who have been a funding partner since the start.
With more than 2330 donors, the service provides support to often premature babies whose mothers may not have enough of their own breastmilk in the early days.
Donors are screened, including blood tests, to make sure their milk is suitable.
The milk is also tested for bacteria before being heat treated. Just like with blood donations, the milk is freely donated, and its use tracked and recorded.
One donor is 27-year-old Rebecca Robson.
The mother-of-two spoke to those at the anniversary celebrations, and said she knows the families she is helping are "unbelievably grateful" for the effort of donors like her.
She added: "I think a lot of people think being a donor can restrict your life, but I've never felt that way before. I only express on my own schedule and my child comes first.
"Being a donor is so rewarding, you're giving a gift that no amount of money can buy and you're having such a positive impact on so many."