Protest over 65ft tall phone tower at Bearsden
Residents are protesting over plans to erect a 65ft tall telecommunications mast at Bearsden .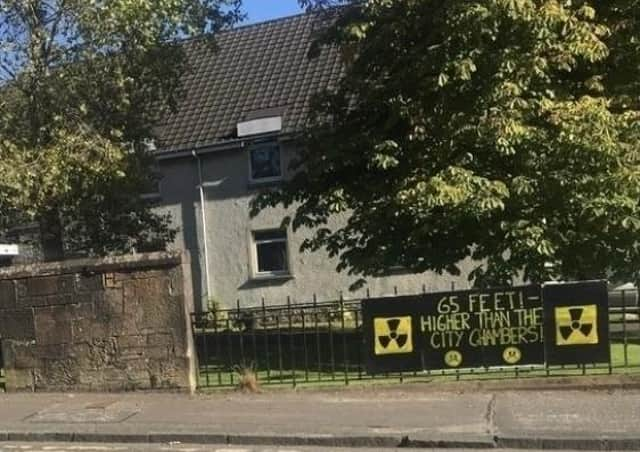 More than 200 people so far have signed an online petition against its installation .
Glen and Sandra Frew are leading the campaign against the mast.
Glen said: "A large number of residents on Drymen Rd are extremely concerned to have received notice from East Dunbartonshire Council Planning Dept of an application to erect a 65ft telecommunications mast adjacent to the Schaw Court Sheltered Housing Facility.
"This mast will be higher than the Glasgow City Chambers building,will carry multiple antennae and dishes and will tower over Schaw Court and the popular residents garden.
"The tower would be highly visually intrusive and unacceptably prominent - completely out of scale to nearby buildings.
"Despite reassurances from the 5G providers, health concerns persist over the long term effects of exposure to the non-ionising radiation emitted by their masts."
However, local MSP for the Scottish Greens, Ross Greer, who lives in Bearsden, told protestors there was no radiation risk from the mast.
The MSP posted on Facebook: "If you object to the 
visual impact fair enough, but there is no radiation risk from 5G and it's unfair to alarm 
people who don't know that, particularly elderly residents who can't immediately 
disprove it with a quick 
Google."
He flagged up a link to the website of the Guardian newspaper: https://www.theguardian.com/.../5g-safe-radiation...
Thomas Glen, Depute Chief Executive - Place, Neighbourhood & Corporate Assets, said: "A planning application has been received for a proposed 20m telecommunications mast at a site on Drymen Road, Bearsden, from WHP Telecoms Limited (Ref: TP/ED/20/0455). It is currently pending consideration.
"A statutory notice was published in the Milngavie & Bearsden Herald of 1 October 2020, and a statutory notice was put up at the site on 2 October 2020, inviting representations over the next three weeks.
"These can be made to the council by post (Planning Offices, Broomhill Depot, Kilsyth Road, Kirkintilloch, G66 1TF), by e-mailing [email protected] or via the website - http://planning.eastdunbarton.gov.uk/online-applications/applicationDetails.do?keyVal=QDE632GJHT500&activeTab=summary."