Support mums fighting to retain neonatal services at Wishaw Hospital today
The fight to stop the downgrading of the neonatal intensive care unit at University Hospital, Wishaw, was taken to the Scottish Parliament on Thursday.
Watch more of our videos on Shots! 
and live on Freeview channel 276
Visit Shots! now
The Scottish Government is proposing to downgrade five of the eight Level Three neonatal intensive care units in Scotland, leaving only three – at Glasgow's Sick Kids Hospital, Edinburgh's Simpson Memorial and Aberdeen Maternity Hospital.
This would see the other five centres, including Wishaw, being downgraded to level two. That in turn would mean any baby born in Scotland prematurely – below 27 weeks and 800 grams – would be stabilised and transferred after 48 hours to one of the specialist centres.
The move has caused great concern among mums whose babies have been treated at Wishaw, which won the UK-wide Neonatal Team of the Year Award from the Neonatal Nurses Association this year.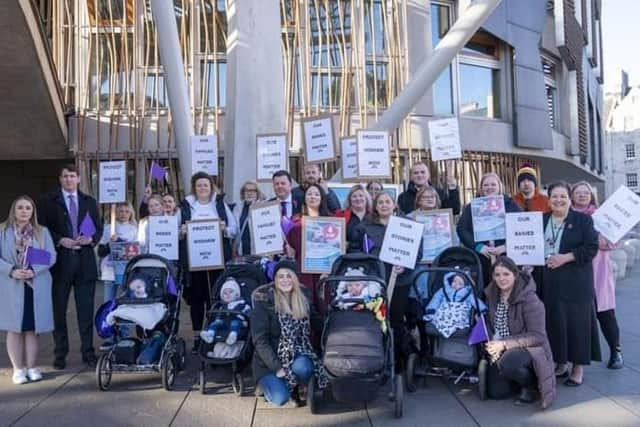 Lynne McRitchie, whose son Innes (4) was born at Wishaw in 2019 and featured in the first series of the BBC's Tiny Lives programme, was so incensed she launched a petition in August. So far, it has gathered more than 17,000 signatures.
Along with fellow mums Tammy Johnstone-Little, Monica Sheen and Angela Tierney, Lynne also formed the Facebook group Wishaw Neonatal Warriors which now has 702 members.
And with the support of MSP Jackie Baillie, who brought a motion to Parliament to stop the downgrading of the unit, the mums staged a rally outside Parliament last Thursday.
The mums were also able to present their case directly to Jenni Minto, Minister for Public Health and Women's Health and are hoping that it will prompt a rethink.
Lynne said: "The rally was a big success – we had a lot of support – and, thanks to Jackie Baillie, we were also able to talk through our concerns with a number of MSPs, as well as the Minister.
"She kept on saying that the recommendations had been made to ensure the best outcomes for the smallest and sickest babies.
"Our argument is that Wishaw should be one of the centres that cares for these babies.
"One of the key points in the Best Start Plan talks about keeping mums and their babies together, maximising the chance for skin to skin contact and breastfeeding.
"How can that be achieved if parents are having to travel to Edinburgh, Glasgow or Aberdeen, particularly if they have other children at home.
"They keep saying this is being done in the best interests of the babies but they're ignoring so many factors. We've been asked to submit our case to the Minister – we hope it will prompt them to rethink these plans.
"They are only now looking at capacity issues in Glasgow and Edinburgh. We believe Wishaw should be retained as a Level 3 centre too; after all, Lanarkshire is the third biggest health board in the country and covers a vast area, including very many rural towns and villages."
The mums will be staging a Hands Around the Hospital event at the King George V Park, adjacent to the hospital's car park, at noon on Friday, November 17, World Prematurity Day.
It is hoped readers will go along to show their support.