Thousands sign petition calling for reopening of Sir Matt Busby Centre
More than 2500 have signed a petition started by Bellshill Sharks ASC calling on Culture and Leisure NL to reopen the Sir Matt Busby Centre.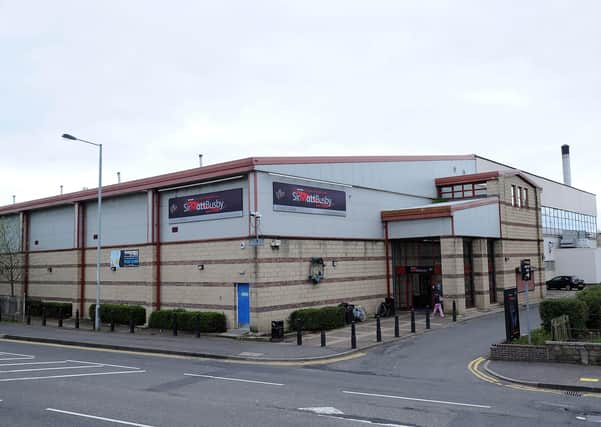 Facilities closed due to Covid-19 restrictions earlier in the year, and while leisure facilities across the country are reopening, including six in North Lanarkshire, there is little sign of that happening in Bellshill.
Indeed the Times & Speaker has received unconfirmed reports that staff have been told the Sir Matt Busby will never reopen.
At present elite swimmers from the Sharks are having to travel to Wishaw twice a week, Cumbernauld twice a week and Stirling to be able to access pool time.
As such the club wants clear information from Culture and Leisure NL regarding the future of its home pool.
A statement said: "Since the closure of leisure facilities due to Covid-19 restrictions there has been no timescale plan or definitive indication of when facilities at Sir Matt Busby will resume. Indications are that the centre will not reopen at all.
"This facility is at the heart of a community which has lost many services over the years. It is accessed by young and old alike offering so much to this community not only from a health perspective but socially and economically too.
"Bellshill Sharks ASC therefore call on Culture and Leisure NL to give us a reopening date for Sir Matt Busby as a matter of priority and remove doubts for the general public on the facilities future."
Culture and Leisure NL was unable to give any indication of when the Sir Matt Busby centre will reopen, just reiterating an earlier statement that: "We are taking a phased approach to the safe reopening of our facilities and services and this will take time to gauge customer response and adapt to new operational plans before we can consider any further phases."
North Lanarkshire Council's SNP Group has stated reassurances are needed on the immediate future for culture and leisure services.
It has therefore lodged an Urgent Business Motion with the Provost to be heard at a meeting of the full council on Thursday.
Bellshill councillor, and group depute leader, Jordan Linden said: "I understand the significant challenge of restoring key services against the backdrop of coronavirus.
"This challenge is only exacerbated by the worrying increase in Covid-19 cases we see across North
"However – our communities are crying out for communication, information and ultimately a roadmap
to restoring their local facilities back to being accessible.
"This isn't an issue which just affects my own local pool at the Sir Matt Busby Centre – but one which is impacting many facilities and many communities across the authority.
"Our Urgent Business Motion will allow councillors to express their view on the urgent need for culture and leisure services to inform us what plans are in place for restoring services, what phases certain facilities will be restored and crucially what support is in place for hardworking staff.
To date, councillors haven't seen this detail on culture and leisure and we are ultimately responsible to those in our communities.
"Our communities and local people are worried they will permanently lose their local centres – so we need answers to these key questions and openness about the challenges of Covid-19."
To sign the petition visit www.change.org/p/north-lanarkshire-leisure-reopening-of-sir-matt-busby-pool.