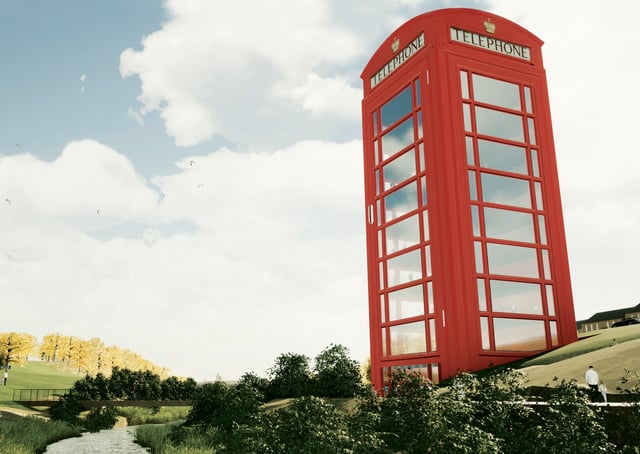 Resident John Dickson 
received the backing of 
local people through a survey launched on social media just before Christmas.
John is behind the "Giant Red Phone Box" project which resulted in Kirkintilloch being named the winner of the Future Town Design Competition in December 2019.
The contest is organised annually by national towns agency Scotland's Towns Partnership and is aimed at stimulating conversations, provoking ideas and encouraging new approaches to highlight what towns could look like now and in the future.
The local project won after securing more than half of the public votes.
The recent social media survey also garnered support for the 55m tall phone box to be built in the town.
John said: "Lots of people are rooting for it!"
Almost 200 people from the age of 18, up to retirees, took part in the detailed questionnaire.
They were asked to give their views on a range of proposals, including the possible location of the phone box at Luggie Park.
John said: "Almost 80 per cent thought this was either 'excellent', 'fabulous' or 'fine'.
He added: "Practically everyone loved the discussion on what could be inside the phone box."
Proposals included a cafe/restaurant, gift shop, interactive museum including "The Foundry Experience", exploring the history of Kirkintilloch's industrial heritage.
People also offered up suggestions of their own, from rock climbing zones to a giant indoor slide and information on the Romans and the famous Antonine Wall which runs through the town.
There was even the suggestion of abseiling down the phone box.
John said: "Most people liked the idea of re-invigorating Luggie Park so that Kirky could become a popular destination for visitors, bringing footfall to the town's shops and restaurants. Creating the kind of buzz the town gets at the annual Canal Festival.
"Many folk reckoned the idea is brilliant. It could transform the town and help to create lots of jobs. Being Green is very important and the canal will be one of the main routes to the destination. Visitors will be encouraged to come by public transport, walking and cycling.
For more, visit https://thegiantredphonebox.co.uk/