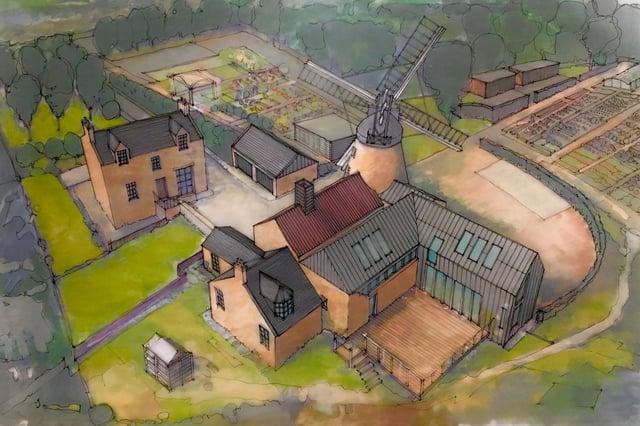 Carluke Development Trust is continuing its efforts to regenerate the entire High Mill site
This will allow it to continue its project to reduce dereliction and promote regeneration in the town.
Bill Anderson, from the Trust, said: "We are delighted to receive support from the Scottish Land Fund for the acquisition of the former Millers House that sits within the Carluke High Mill and ONECarluke Community Growing & Learning Garden site.
"The acquisition of the house will complete the community ownership of the whole site and allow the project to create a larger Community HUB and move into an even more exciting period of delivery and further development."
Through the Community HUB people will be able to:
 Meet and touch base with friends and members of their local community and other
communities across the Parish of Carluke and beyond.
 Access information and interpretation areas setting out the history of the Carluke
High Mill and its place within the Clydesdale and Scotland food growing sector.
 Access information on the future plans, developments and progress of the activities
associated with the Carluke High Mill buildings and ONECarluke Community
Growing & Learning Garden.
 Support, mentor, and share skills and experiences with each other and give back to
 Provide opportunities to access physical, mental health, wellbeing, and life skills.
 Access a number of activities, events and programmes including volunteering,
employment and training opportunities to increase skills, knowledge, and
experiences in the following areas :
o Environmental improvements and climate change.
o Recycling and reuse of materials.
o Food preparation and cooking.
Christine Warren, honorary president of Carluke Parish Historical Society, said: "I am delighted with the award of this Scottish Land Fund grant.
"The miller's house is an integral part of the history of the High Mill and its purchase gives scope for Carluke's ambitious community project to reach its full potential."
Clydesdale West councillor Eileen Logan added: "I am so pleased that the house at the High Mill has been retained to serve the community in future years.
"It is a lovely building with great character a beautiful asset for the High Mill restoration project."