Cumbernauld project singled out by National Lottery to star in special feature video
A Cumbernauld project which is revitalising the town's green spaces has been singled out by the National Lottery to star in a special feature video with comedian Rosie Ramsey.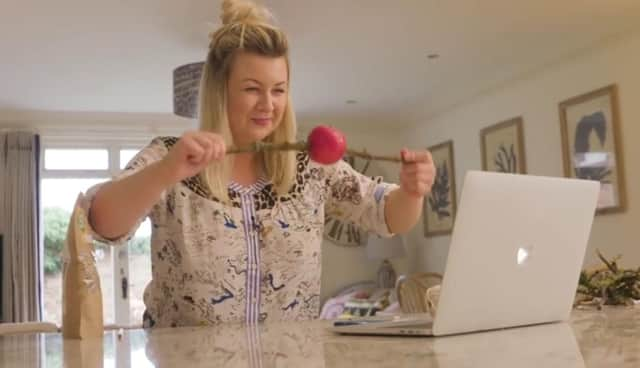 Cumbernauld Living Landscape project manager Fiona McGrevey hopes the video can emphasise the crucial role of supporting wildlife on the environment.
She said: "Our main aim is to improve green spaces around the town for both people and wildlife – and raise awareness about how you can improve your wellbeing by using nature.
"It was really good experience to be involved in the video and share what Cumbernauld has to offer to a wider audience.
"Rosie was really friendly and really enthusiastic. It was fantastic to be chosen by the National Lottery and it made us really proud.
"Lockdown has been extremely challenging for us, so to be considered and showcase the project was a really good highlight for us."
The video called 'Bird Feeder DIY' and involved trainee Katie Brown showing Rosie how to make a simple eco-friendly bird feeder, before she and Fiona took Rosie on a remote tour.
Cumbernauld Living Landscape has continued to work tirelessly through lockdown with the team of 'Nature Ninjas' leading digital workshops.
It wants to make helping the environment more accessible and Fiona believes National Lottery funding is accelerating their mission.
She said: "We're delivering projects that will add both value to nature, and also to communities we work with.
"Individuals who engage with the programme are re ally g etting something out of it – so National Lottery funding makes a big difference."
To watch the video visit the Cumbernauld Living Landscape Facebook page.
The National Lottery is encouraging the public to make a vital contribution to the future of our planet by making a #PlanetaryPromise on social media.
The #PlanetaryPromise is a chance for you to do your bit for the environment by making a conscious commitment to either start or stop something that could be helping or harming our planet.
To find out more visit www.lotterygoodcauses.org.uk/stories/planetary-promise