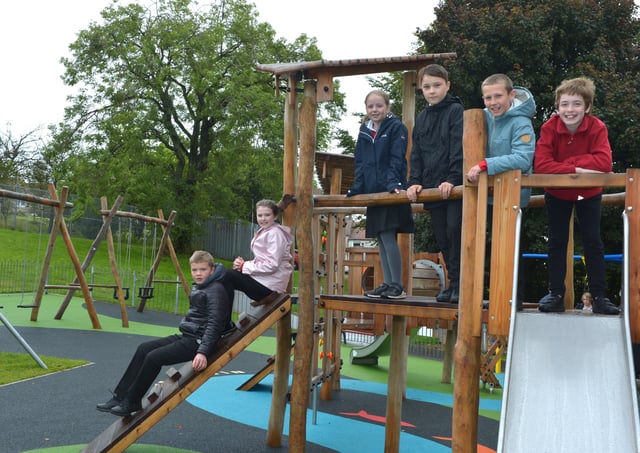 Young people in Banton are delighted with the new play equipment
Banton Play Park Group consulted with local residents to develop plans to replace the old play area, with children and young people encouraged to draw and build models of their ideas.
The group then worked with the council's Community Partnership Team to turn their plans into reality with £85,000 from the Local Development Programme.
At the centre of the new facility is a wooden climbing area, as well as an accessible roundabout, swings and a cable way. A new bench and picnic table were also installed.
Group secretary Shona Smith said: "This is a fantastic development for the village and we want to thank everyone, but especially local children and young people who took park in the consultations.
"As a group we have been supported by local councillors and staff from North Lanarkshire Council Community Partnership Team and this has been invaluable as we took the whole vision forward."
Shona and Catherine Moneypenny from the community group were joined by local children and Kilsyth councillors Jean Jones and Heather Brannan-McVey for the official opening.
Councillor Brannan-McVey said: "It was great to see the community working together with the council to deliver such a fantastic play experience for the village.
"The park is being well used by the school and it only adds to the other community led developments in Banton."
A new sign, designed by a Banton Primary pupil, will be installed in time for a special socially distanced event being organised by the group.