2.7 million cars forced off the road by pothole damage as councils struggle with repair backlog
Repair bill for broken wheels, tyres and suspension reaches £1.7bn per year as half of drivers report hitting potholes at least once a week
Watch more of our videos on Shots! 
and live on Freeview channel 276
Visit Shots! now
Damage caused by potholes has forced an estimated 2.7 million cars off the roads in the last year, costing drivers £1.7 billion in repairs.
A new report from maintenance specialists Kwik Fit questioned 2,000 drivers on their experiences over the last 12 months and found that 57% of drivers had hit at least one pothole a week and the equivalent of 13.1m cars had been damaged in such an incident.
Of those whose cars were damaged by a pothole, the equivalent of 2.7m said their car was off the road for a week or more while undergoing repairs.
The annual Report Pothole Impact Tracker Report (PIT) found that the average repair bill faced by drivers was £127, to put right issues ranging from burst tyres to broken suspension components. However, in some cases drivers who responded to the PIT survey were left facing far higher bills, with an estimated 850,000 hit with costs of more than £300.
It also revealed that half of drivers believe the condition of their local roads has worsened over the past decade. The news comes in the wake of a new report which showed that one in five local roads in England and Wales has less than five years of structural life left.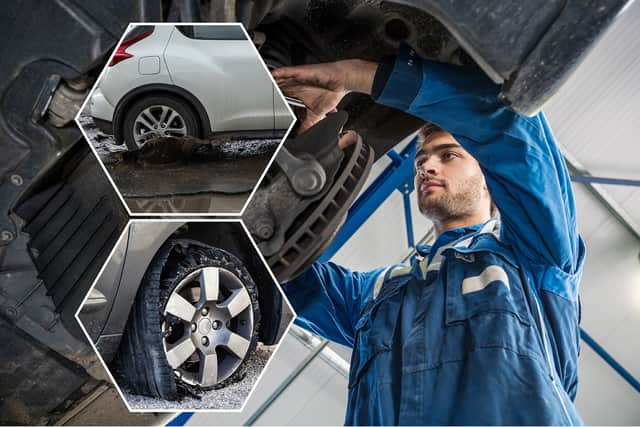 Among those questioned, nearly half (47%) agreed that a portion of the money raised through fuel duty and vehicle excise duty should be ringfenced for improving road surfaces.  But only 10% said they would be prepared to pay more on those for direct spending on road surfaces. A similar small minority would be happy to pay more council tax if it was ringfenced for roads in their local area.
The PIT report found that just one in three drivers who hit a pothole reported it - something Kwik Fit's communications director Roger Griggs urged them to do, even if they don't think they have damaged their car. He said: "We know councils have huge demands on their budgets, but it is better that they are aware of a pothole as early as possible.
"The condition of road surfaces only goes in one direction, so the longer a problem is left, the more costly it will be to repair.  And obviously, in the meantime, the more damage it will be doing to vehicles and causing problems for drivers whose vehicles are off the road."
Griggs added that after hitting a pothole, drivers should examine their car for any signs of damage. He said: "Drivers who do hit a pothole should make sure they thoroughly check their vehicle to ensure the impact hasn't done any damage. This may not be obvious at first, because the impact could cause a slow puncture, cracked wheel rim, misalignment or other tyre damage which may not be immediately apparent.
"We recommend drivers who have experienced a particularly heavy impact to keep a close eye on how their car is handling in the days following the incident and if they have any concerns take it into a garage where it can be put on a ramp and checked thoroughly."
Separate research by Czech car maker Skoda found that punctures were the most common damage caused by potholes, following by misaligned tracking and broken springs or shock absorbers. Buckled or damaged wheels and exhausts were the joint fifth most common result of pothole damage according to the firm, which was promoting its Local Hazard Information system, which uses connected services to warn drivers when they are in an area with bad road surfaces via the infotainment system.