2023 Lexus RZ 450e review: smooth performance at the heart of premium EV
The first Lexus EV that really matters is a confident step towards an all-electric line-up , even if One Motion Grip feels like a gimmick
Lexus has made it clear that it sees its future as all-electric.
Leading that shift is the RZ 450e, the brand's first ground-up EV. It's designed to challenge the Audi q8 e-tron, Mercedes-Benz EQC and BMW iX3 as well as act as a showcase for new technology, including the groundbreaking One Motion Grip steer-by-wire system.
This isn't Lexus's first EV - the forgettable UX 300e has been around for a few years - but it is the brand's first model built on a dedicated EV platform and with no petrol/hybrid option.
That platform is the same one that underpins the Toyota BZ4X but the RZ enjoys more power and more attention to detail in its design and construction to ensure that it looks and feels like a truly premium machine.
The RZ slots into the Lexus line-up between the hybrid-powered NX and RX SUVs. Externally, there's a clear family resemblance thanks to the pinched-in "spindle" grille, slimline LED lights and angular approach to body design. The RZ's wheels are pushed further to the corners and the bonnet and roofline are lower, giving it a more dynamic, less upright stance.
New for RZ are four eye-catching "solar" colours. You can also choose a bi-tone finish that pairs one of these with a contrast black bonnet and roof. But you probably shouldn't. The matching wheel arch cladding also stands out for the wrong reasons, breaking up an otherwise appealing and sleek look.
Lexus's exteriors have long stood out for being bold and adventurous in the face of more subdued rivals. Its interiors have done likewise, but often because "adventurous" translates into cluttered and unintuitive. Not so in the RZ, though. Here a more logical approach pays dividends through a clean, simple, user-friendly layout dominated by a 14-inch touchscreen but with a smattering of sensible physical controls.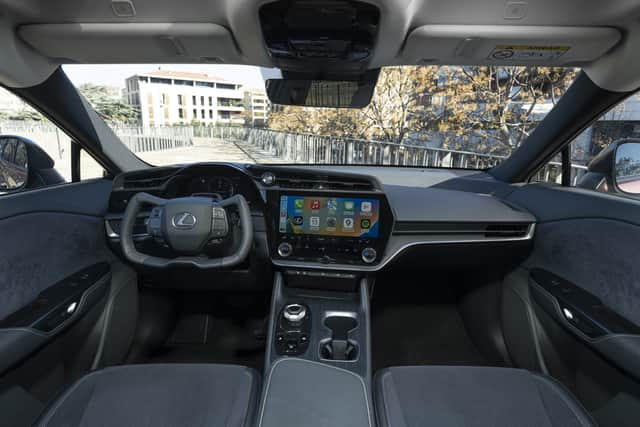 There's talk of a driver-centric cockpit, which essentially means that the dashboard is angled in from both sides towards the steering wheel and digital instrument binnacle. Those dials are a rare misstep and look like they've been lifted from a previous generation car, especially in contrast to the sharp, bright and responsive touchscreen - another major improvement on old Lexus systems.
Lexus has a long reputation for bombproof build quality and, once again, the RZ doesn't disappoint. Fit and finish throughout the car is impeccable and, like the design, the materials are unadventurous but hard to fault. Entry level cars come with a high-quality synthetic leather upholstery while Takumi spec features a beautifully tactile Ultrasuede faux Alcantara. This feels particularly high-end and the pale brown of the hazel interior option elevates the cabin ambience.
Externally, the RZ sits between the NX and RX but the EV platform means interior space feels at least as generous as the larger RX. Headroom, even with the panoramic roof, is good until you're approaching six and a half feet and there's plenty of legroom for four tall adults to fit with ease. That panoramic roof aids the airy feeling of the interior and, in top-spec cars, is electrochromic, meaning it can be instantly dimmed at the touch of a button. At the rear, a powered tailgate gives access to the 522-litre boot - better than the RX and most of the RZ's main rivals.
The sunroof is among a number of clever new technologies introduced in the RZ. It is also heat reflective and insulated to reduce demand on the heating system. Likewise, "radiant heaters" at knee height use infrared technology to help warm the cabin - worth an 8% energy saving over the regular air con. The air con will also automatically detect which seats are occupied and optimise the heating to save energy.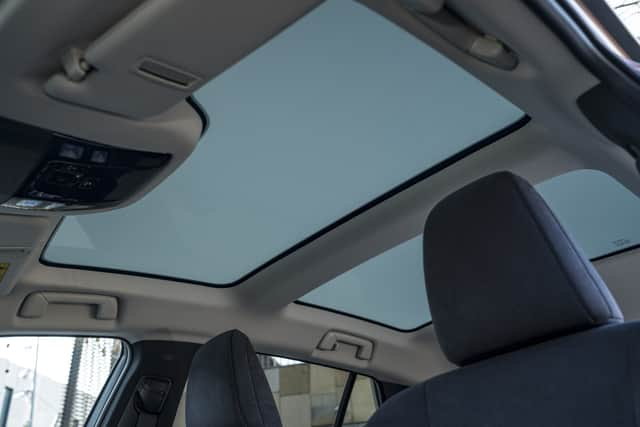 All these measures, and more like a battery warming system, are there to get the most out of the RZ's battery. This 71.4kWh pack provides energy for a 150kW front and 80kW rear motor. Lexus claims the RZ can achieve 3.7 miles/kWh which should stretch range out to 270 miles on a single charge. That's on 18-inch wheels, the 20s drop this to 3.4m/kWh and 245 miles of range. On a chilly March day we saw 2.5m/kWh (around 180 miles) from both versions but warmer temperatures will undoubtedly improve this.
Rapid charging maxes out at 150kW - a match for its German rivals - meaning an 80% charge will take around 30 minutes, and there's 11kW AC charging for anyone with a three-phase supply. Lexus guarantees the battery will retain at least 70% capacity after a decade but is confident the real figure will be closer to 90%.
The two motors' combined 313bhp is plenty for a car like the RZ and allows strong performance, with the usual instant response from the four-wheel-drive setup. The 0-62mph run takes a rapid 5.3 seconds. As impressive as that is, this isn't really a car for tearing up drag strips. The real benefit of the electric drivetrain is how smooth and quiet it is. It's exactly the sort of linear, silent, effortless driving experience tailor made for Lexus.
And it ties in perfectly with the RZ's excellent ride quality and refinement. Frequency-sensitive suspension adjusts to the road conditions and does an impressive job of smoothing out bad surfaces. This comfort combines with noise suppression efforts including double-glazed windows and active noise cancellation, which make the RZ a smooth, silent cruiser but not a B-road battler.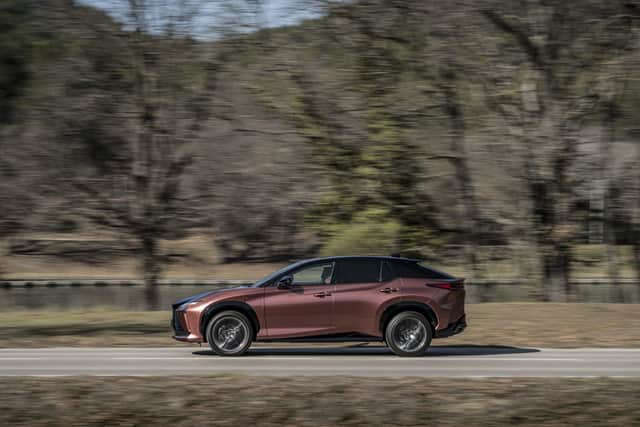 The front-biased all-wheel-drive setup means that the RZ has plenty of grip and control even on more difficult roads but despite major efforts to lower the car's centre of gravity, it still leans a fair bit around tight corners. And the steering is numb whether using the traditional wheel or the One Motion Grip yoke.
One Motion Grip is worth spending some time on, especially given the time and money Lexus has invested. There's no physical connection between the steering yoke (think F1 car or aeroplane) and the front axle. Instead inputs are transmitted electronically which allows for a speed-sensitive variable "rack" and removes the need for hand-over-hand inputs, with a 150-degree lock-to-lock range. Lexus claims it offers more precision while filtering out unwanted feedback.
Honestly, it's a peculiar thing and a few hours at the yoke isn't enough time to formulate a definitive view. But first experiences veer from the early "this is weird" to "ah, getting the hang of it" and back to "what the hell happened there?"
Initially, the sheer sensitivity makes it hard to perform low speed manoeuvres smoothly. Urban roundabouts, in particular, can easily prompt some ungainly sawing as you over-steer then over-correct. At higher speeds it feels more natural and you quickly settle into a comfortable rhythm. The problem is that the minute you hit a town it's easy to once again get caught out by its oversensitivity. Familiarity will help improve this but there's nothing wrong with the RZ's standard steering and OMG feels like a very clever answer to a question that nobody asked.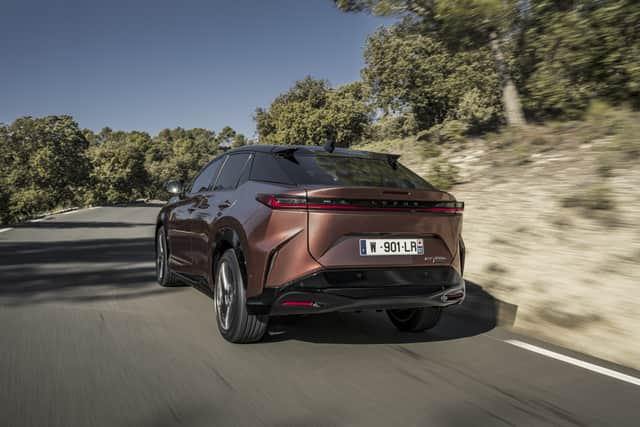 That technology will be an option when it eventually comes to market in 2025 but in the meantime there's very little to add to the stacked specification list. In fact, your only paid-for choices are bigger wheels on the entry level Premium Pack, the £250 Solar paint and the  £1,100 bi-tone finish.
The range starts at £62,600 for the Premium Pack and all models get heated, power-adjustable front seats; a heated steering wheel; 14-inch connected touchscreen with wireless Apple CarPlay and wired Android Auto; dual-zone air conditioning; panoramic sunroof and a powered tailgate.
An extra £4,000 moves up to Premium Plus and adds cooled front seats, a head-up display and 360-degree camera, plus the the radiant heaters, while Takumi (£72,100) brings the electrochromic sunroof, Ultrasuede upholstery, ambient lighting and a Mark Levinson sound system along with adaptive LED lights and performance dampers.
It's not cheap but its BMW and Audi rivals are similarly priced while any entry-level EQC costs as much as a top-spec RZ 45e.
After a slow start to its EV journey, the RZ feels like a confident first step for Lexus. It has the traditional Lexus hallmarks of bold design, unimpeachable build quality and high specification allied to a smooth silent and powerful electric drivetrain that serves to enhance then brand's usual refined and effortless driving experience.
Lexus RZ 450e Takumi
Price: £72,100; Motor: 150kW front, 80kW rear electric motors; Battery: 71.4kWh; Power: 313bhp; Torque: 321lb ft; Transmission: Single-speed automatic, four-wheel-drive; Top speed: 99mph; 0-62mph: 5.3 seconds; Range: 245 miles; Consumption: 3.4m/kWh (combined); Charging: up to 150kW