Polestar 2 review: Swedish EV blends style, substance and spec at a competitive price
Entry level model offers a user friendly EV with sharp styling and brilliant driving experience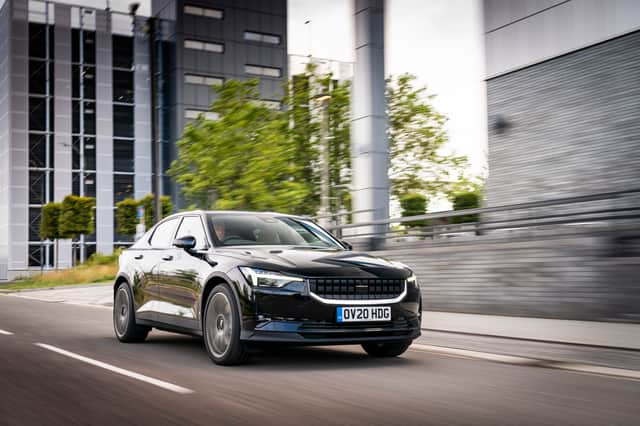 Polestar doesn't feel like a car maker in a particular rush. Five years after the Polestar 1 was launched, the brand still only sells one car - this, the Polestar 2 - and it'll be the end of 2023 before deliveries of the Polestar 3 SUV begin.
That's not a particular problem though because, while its line-up is limited, what Polestar offers is a straightforward entry into the world of electric cars that won't scare off newcomers or alienate EV early adopters.
That starts with its sharp-cut looks which are squat and square, with just enough presence to get noticed. There are hints of Polestar's Volvo parentage - those Thor's hammer running lights, for example - but that's no bad thing and there's a similar simplicity that creates an impression without seeming to try too hard. Similar to a lot of current EVs, the Polestar sits somewhere between a saloon/hatchback and an SUV, with a fairly traditional three-box body style sitting on taller suspension that gives a raised ride height (and creates ground clearance for the batteries).
Like the exterior there's a pleasing Scandinavian simplicity to the interior layout although the choice of colours and materials in my test car left something to be desired, with a drab mix of black and grey vegan fabrics which feel hard-wearing but don't scream premium £46k car. There's a fair amount of quality switchgear lifted straight from Volvo, which is a sensible approach and the seats are excellent. On the surface everything has a premium sheen, from the console's gloss black and the light-up gear selector to the textured dash panel. However, delve deeper and you'll find some dubious finishes.
Like so many brands, Polestar is on a mission to eliminate buttons so most of the car's secondary functions are controlled by the on-board Android Automotive operating system. This powers the responsive screen with its simple and easy to use tile arrangement and comes with the brilliant Google Maps navigation and Google Assistant built in.
Apple acolytes can connect their phone via CarPlay but it's less simple for Android owners, who log into their account via the car's OS rather than mirroring their phone. In theory this puts your whole Google world within the car but there are issues, including gaping holes in the app library and the feeling that everything is designed to suck you further into Google's own ecosystem at the expense of other apps.
Thankfully, once you're on the move most of the infotainment irritations fade away thanks to the Polestar's brilliant and refined driving experience.
While some EVs demand you get familiar with a host of driving modes and brake regeneration options, the Polestar 2 is set up so you can simply get in and drive (without even having to press a start button). Like a Tesla, there's one basic drive mode with single pedal operation that's so well balanced and natural feeling that you're unlikely to ever want to adjust it (although you can via an on-screen menu).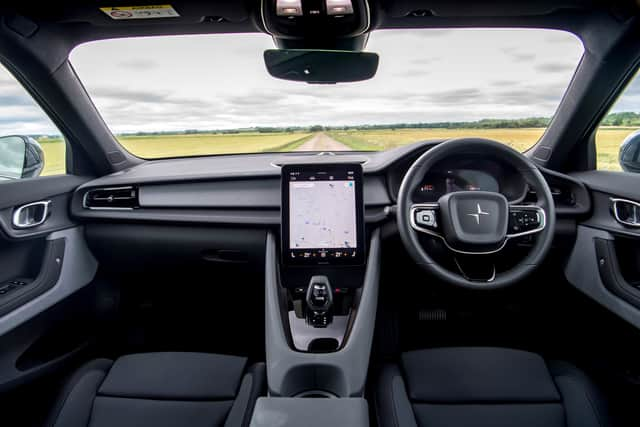 The Polestar 2 comes with two battery and three motor options (although the smaller battery is temporarily off sale). All-wheel-drive versions feature two motors and come with the option of a standard 402bhp or Performance Pack upgrade that offers 469bhp.
I, however, have been testing a more sensible two-wheel-drive version, which uses a single motor and the 78kWh long-range battery to offer the best balance of range and performance. Its 228bhp and 243lb ft will see it whoosh up to 60mph in a respectable 7.8 seconds. Around town and at lower speeds, the instant torque of the electric motor means it's responsive and there's plenty of shove for higher-speed overtaking as well.
The low-speed ride can be a little firm but out of town it feels steady, secure and relatively supple. The handling is neutral and predictable and while it doesn't communicate in the same way as a BMW i4, it still feels controlled and responsive at higher speeds.
Polestar quotes an official range of 335 miles for this long-range version and consumption of 3.6 miles/kWh. In the real world I saw an estimate of around 280 miles on a full charge, which is acceptable but in the chilly weather consumption plummeted to around 2 miles/kWh, proving the impact bad weather can have.
The Polestar range currently starts at £46,450 for the single-motor long-range car I tested. That brings the fancy infotainment system, a powered tailgate, heated seats, adaptive LED lighting and a massive safety spec ranging from eight airbags to the latest in collision avoidance and mitigation borrowed from that bastion of safety, Volvo. The £4,000 Plus pack adds some features ideal for colder climates including a heat pump, heated steering wheel, rear seats and washer jets, as well as a Harmon Kadron stereo and panoramic roof, while the £3,000 Pilot pack brings more driver assistance such as adaptive cruise control, rear collision warning and a 360-degree parking camera.
At that price the Polestar 2 is competing against some serious competition including the Tesla Model 3, BMW i4 plus the Kia EV6 and incoming Hyundai Ioniq 6. Thankfully for Polestar, despite one or two missed steps on the interior, the 2 is well equipped to take them on with its simple blend of style and substance.
Polestar 2 Long Range Single Motor
Price: £46,450; Motor: Single synchronous electric motor; Battery: 78kWh; Power: 228bhp; Torque: 243lb ft; Transmission: Single-speed automatic, rear-wheel-drive; Top speed: 99mph; 0-62mph: 7.8 seconds; Range: 333 miles; Consumption: 3.6m/kWh (combined); Charging: up to 150kW