Back to the 90s: The Ark club night at The Tunnel set for one-night revival at Radisson RED
The Ark, the flagship Friday night which packed in crowds at The Tunnel through the late 90s, returns in December for one night only at Radisson RED.
Watch more of our videos on Shots! 
and live on Freeview channel 276
Visit Shots! now
The night famed for animal décor, Bullshy on offer at the bar and a trendsetting music policy comes to the RED Sky Bar on December 29 in aid of Nordoff and Robbins Music Therapy.
Original promoters Simon Foy and Duncan Reid are once again at the helm, with The Ark's resident DJs Michael Silky Kilkie of Bar One and Simon himself taking care of Bar Two action.
And they will be joined by a very special guest – Graeme Park, the latest DJ to play the rooftop bar that was recently awarded the title of best late night venue.
For some nightclub nostalgia and to give you an idea of what to expect from the night, we asked Simon and Michael for their top tracks. Here is their Ark classics playlist.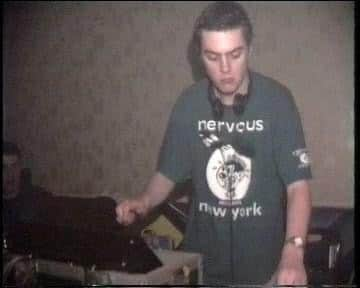 Sickboy's Bar Two Anthems
1.Sandy B – Make The World Go Round
Contender for best bassline ever, with vocals to match.
2. Future force - What You Want
First of three tracks in my top ten on one of the most prolific and consistently excellent labels of the mid to late 90s, AM:PM.
3. Everything But The Girl - Missing
Todd Terry doing damage on the mix , 'and I'm a shoe…'
4. Maria Carey – Dreamlover
Thanks to the Morales remix, this was another vocal classic that never failed on the dancefloor.
5. Bobby Brown - Two Can Play That Game
6. Brand New Heavies – Back to Love
Still brings a smile to my face every time I hear it, remixed by Graeme Park himself and can't wait to see the reaction when he plays on 29th December at the RED Sky Bar.
Who doesn't know the words to this?!
8. Nightcrawlers - Push The Feeling On
MK meets the Scots to produce a masterpiece, sampled by everyone from Pitbull to Riton and good for buying cars.
9. Heller & Farley Project - Ultra Flava
Bar Two at The Ark was almost entirely vocal driven, this was one of the few exceptions and always had a great reaction when it kicks in. AM::PM again!
10. Mory Kante – Ye Ke Ye Ke
First heard this is in the Acid House days in the form of the Afro Acid mix which was engineered by Robin Guthrie from Scottish Band Cocteau Twins. The Hardfloor mix ramped it up even more and was a great transition to a few slightly harder tracks for the end of the night in Bar Two.
Silky's Bar One Bangers
1. Double Dee feat Danny - Found Love
The early days of The Tunnel were very much about piano anthems and there was no one better at it than the Italians. DJs and clubbers alike from all over Scotland would race through the doors of 23rd Precinct as soon as it opened on a Saturday morning to see if they could unearth gems like this as the boxes of import 12's were ripped open.
2.Spirits – Spirits Inside (Big Bump mix)
Bump were popular remixers at the time, but also made some classic tracks of their own like 'I'm Rushing' and 'House Stomping'. This however was one of their finest remixes. Not your standard house track but an epic 4-5 minute intro building up to a massive drop that wrecked the dance floor when it finally arrived.
3.Umboza - Cry India (Ark anthem mix)
Without a doubt the finest moment from Lionel's son M'Boza Ritchie. A track that came from a drunken idea in the Tunnel DJ box and that ended up leading to a top 20 chart hit and a Top of the Pops appearance in 1995!
A track made by the guys at Tag Records in London which included one of our regular guest DJs Laurence Nelson. It destroyed the dance floor completely no matter what time of the night you dropped it.
5.Dan Hartman - Vertigo/Relight my Fire
An off-piste selection and something I think made the Ark really special. A bit of disco madness that used to go down amazingly in amongst the madness of the main room. I always loved dropping this at the Tunnel, the regulars loved it and it became an anthem, the newbies you could see thinking what the fuck is going on here... as I joined everyone on the dance floor!
6.Energy 52 - Cafe del Mar (3 in one mix)
Like most clubs we all loved a breakdown in the Tunnel, the musical type not the mental type, although…! This was one of the biggest breakdowns around. I always remember everyone singing along to this, which was quite a feat seeing as it has no words!
For me the most emotive, beautiful piano driven record I ever had the privilege to play out, and still do. If any tune summed up that loved up feeling on the dancefloor of the Tunnel in the early days then this was it. Always brings a smile to my face.
8.Last Rhythm - Last Rhythm (vocal battle mix)
Another truly emotional record for me that takes me back to the early-90s. A real feeling of unity as everyone sang along. It always took me all my strength to hold off playing it too early as I wanted to save it to the end, but I quite often crumbled due to the amount of people asking for it... and dropped it twice!
9.Mory Kante - Yeke Yeke (hardfloor mix)
Not much needs said about this. If you went to the Ark at The Tunnel in the glory days then you know... and if you know, you know!
10.Freefall feat Jan Johnson - Skydive
Not many trance classics are also sing-a-long anthems, it's normally one or the other, but not in this case. If you were to pick a song that summed up a 'hands-in-the-air, then give the dancer next to you a hug' moment, this would be it for me. 'I feel wonderful, I can skydive from the moon...'
Bassheads - is there anybody out there
Watching the anticipation on the dancefloor as the track built and built towards THAT drop really was something special. Hearing everyone rap along when it finally dropped was just incredible.
Felix – Don't You Want Me
There wasn't a week that went by when the label Hooj Choons didn't release an absolute banger, and this is a classic example. This track just wouldn't go away and was an Ark stalwart in the early days.