East Dunbartonshire MP launches her 2023 hospitality awards with pledge to donate a bag of food to the local food bank for every business nominated
Amy Callaghan has launched her East Dunbartonshire Hospitality Awards for 2023.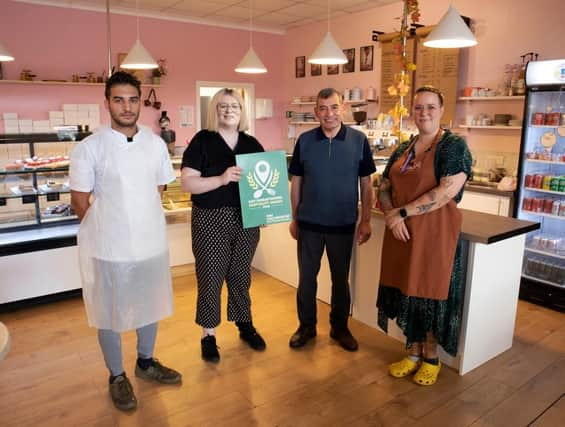 And she wants to hear about as many traders and creatives in the industry as possible.
The local MP has called on residents to nominate their favourite hospitality businesses.
This is the second year of the awards, with Bearsden patisserie, Helmi's, coming out on top last year.
Launching this year's awards at Helmi's, she told The Herald: "We're lucky to have so many amazing hospitality businesses and these awards are about shining a light on the range on offer across East Dunbartonshire.
"I wasn't sure what to expect when I launched the awards last year, but I wanted to get behind the sector after a tough few years during the pandemic.
"There was an outstanding response from residents with nearly 3000 of you voting for your favourite restaurants, bars, cafes, takeaways, and hotels.
"I hope people will be encouraged to try some places they might not have been before."
Open to all restaurants, cafes, bars, hotels, and takeaways across the county, the five businesses with the most nominations will form a shortlist to be announced in mid-August.
From there, the winner will be announced.
Amy added: "I hope you'll get involved again this year.
"Unfortunately, there are many people in our communities who can't afford to eat or drink out, and that's particularly true during the Tory cost of living crisis.
"That's why I will donate a bag of food to East Dunbartonshire Foodbank for every business I visit.
"It's also why I am calling for a fair deal for hospitality workers by asking businesses to sign up to Unite Scotland's Fair Hospitality Charter.
"The awards are not just about supporting our hospitality industry, but about supporting our community.
"I'm excited to see your nominations coming in and, of course, who you will select as the winners of this year's competition."
You can nominate your favourite business via amycallaghan.scot/hospitalityawards