Sitting in the front section of the dining room of Six by Nico's new restaurant on Byres Road felt like being in a display case. Passing West Enders would pause to look through the window, occasionally pointing as staff continued to glide between tables with a steady procession of delicately arranged plates.
Any hints of the past as a Fopp record store have been quickly replaced by a smart, compact dining room with open kitchen, the third Glasgow location for the growing restaurant concept.
Six by Nico serve a new menu every six weeks, inspired by a location, pop culture reference, idea or memory. Some of the best menus from their back catalogue have been inspired by a trip as the team deconstruct some of the dishes they find and put together six dishes to serve back home.
Tokyo is one of the most remarkable cities in the world for food and drink, a mesmerising, bewildering mix of the ultra-modern and the ancient.
Nico Simeone and the development chef for Six by Nico Andrew Temple visited Tokyo in January, this is the menu they created.
Six by Nico - Tokyo
Set the scene with a sakura cocktail - gin, cherry, ginger and lemon - or a Asahi Karakuchi super dry beer, brewed in Sumida, Tokyo. They've also sourced a crisp Choya Dey sake from Hyogo Prefecture, imported from Japan.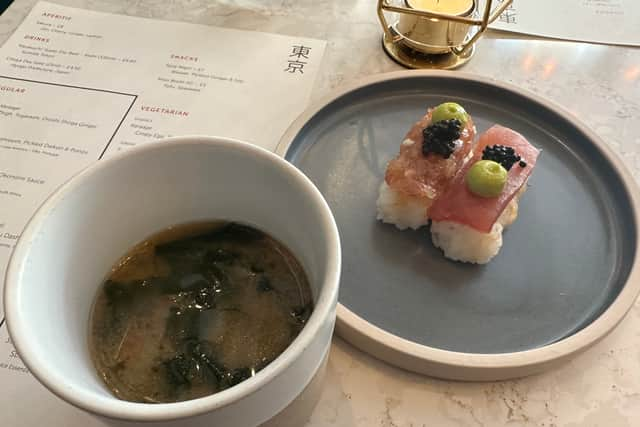 Snacks are tuna nigiri sushi with wasabi, pickled ginger and soy - an early highlight before the meal has even begun - coupled a bowl of comforting miso broth, loaded with seaweed and tofu.
Chicken Karaage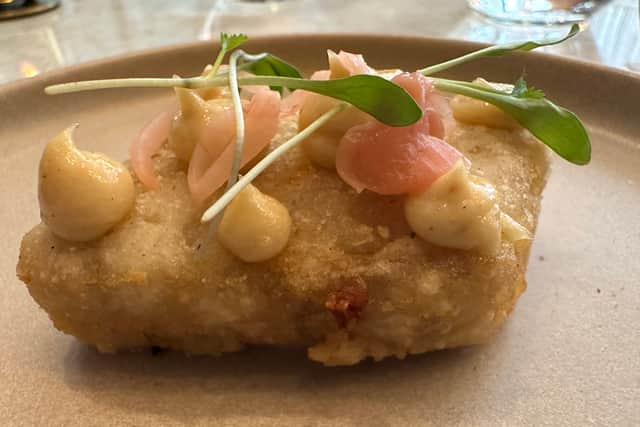 Yes, it does look like a chicken nugget. A powerfully flavoured parcel of crispy thigh with togarashi and oroshi shoga ginger. The stongest dish on the menu, Nico told me that this was his favourite food from the Tokyo trip.
Tempura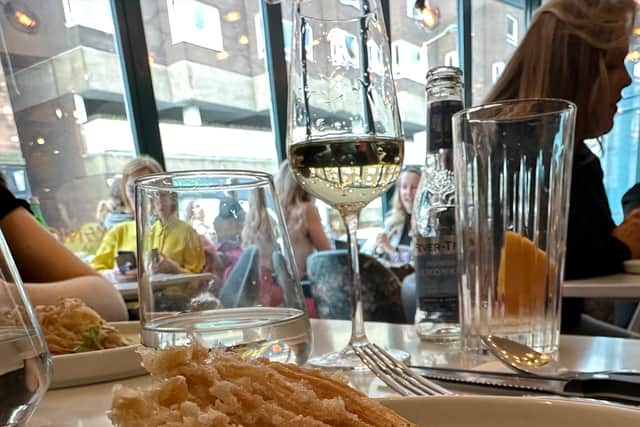 We initially picked this up with chopsticks before deciding to revert to knife and fork. A crisp fan of enoki mushroom with an eathy flavour served with pickled daikon and ponzu. A fun dish that was paired with a glass of Sonante Branco Dão DOP by Casa Americo from Dão, Portugal
Okonomiyaki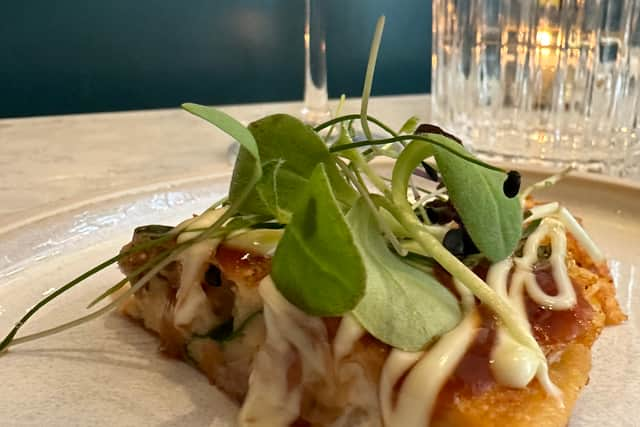 Directly inspired by a restaurant Nico and Andrew found in Tokyo, this pork and prawn pancake is served with okonomi sauce and Japanese mayonnaise. The paired wine is a Merlot rosé by Hill & Dale in Stellenbosch, South Africa and our favourite from the selection.
Ramen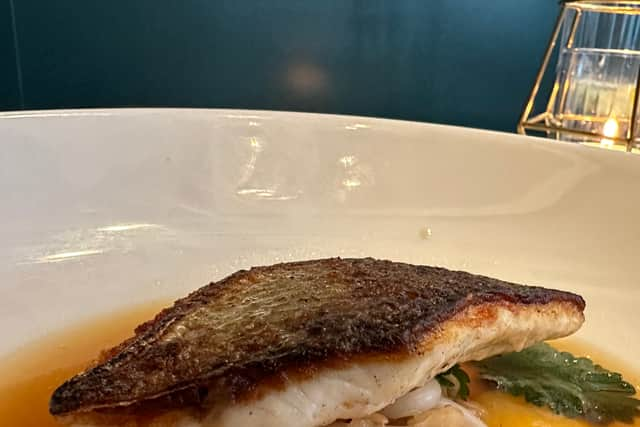 A crunchy, pleasant slice of miso sea bass, with Tokyo turnip and shimeji balanced on mushroom, egg yolk jam and kombu dashi. A reasonably accomplished dish but one that doesn't convey the joy to be found in a warm bowl of ramen from one of the many ramshackle bars in Shinjuku Golden Gai.
Paired with Bevicisu Viognier Sauvignon DOC by Azienda Malgrà from Piemonte, Italy.
Tonkatsu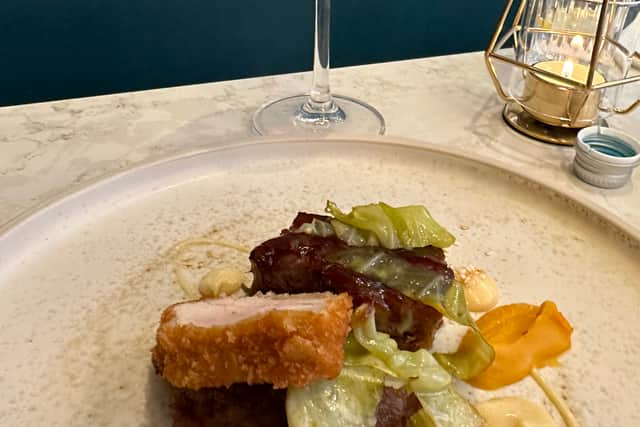 They pack a lot into the fifth course as the set menu approaches a crescendo. Panko pork cutlet, glazed pork belly, cabbage,
hokkaido pumpkin and yakitori ham jam. Ham jam! There's a lot going on for this Tokyo medley.
The wine is Marmande AOC Rouge by Les Marmandais in the South of France.
Strawberry Candy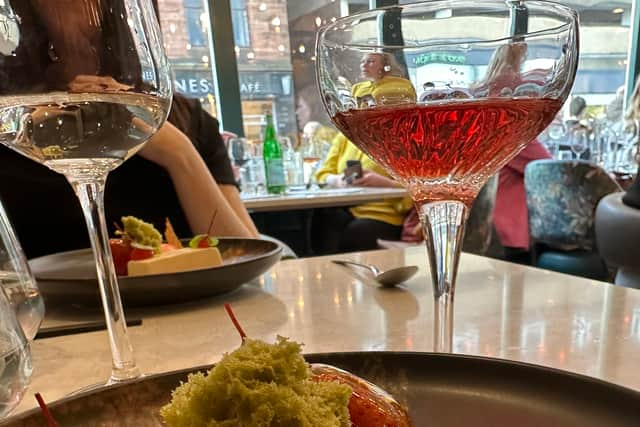 The dessert is a sweet collection of appealing flavours with white chocolate, matcha cake and a delightful candied strawberry.
The last wine is Dolce Essenza Frizzante, La Sera by Malgrà from Piemonte, Italy.
Andrew Temple once told me: "Six by Nico is an entry level of fine dining where you get to see multiple styles of food. We can take international dishes and turn them into something that's fun and tasty and interactive", which neatly sums up the dining experience you will find for the six weeks of the Tokyo menu.
Six by Nico is now at 358 Byres Road, G12 8AW, alongside the original restaurant in Finnieston and their southside branch on Nithsdale Road.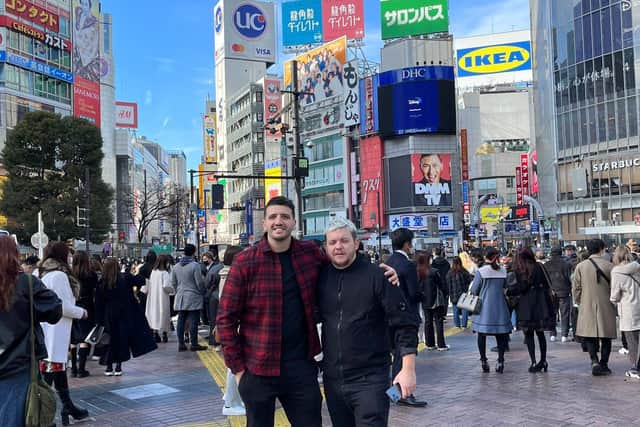 Nico's Journal: The trip that inspired the menu
Arriving in Tokyo: After a 14-hour flight that felt like 14 years, we finally arrived In Tokyo, bleary-eyed and jet-lagged. But, our tour guide Mario was there to greet us with a big smile and sweet treats in hand. Immediately, our tiredness disappeared as we indulged in this kind gesture of foodie delights. We headed for our first meal in Tokyo - from a Seven Eleven convenience store at the hotel.
Not the first meal you would expect from a research trip, but I must say, it was a taste sensation. We tried a variety of foods; onigiris, chicken on a stick and a tonkatsu sandwich. We all knew this would become a frequent spot for us - convenient and absolutely delicious. After this quick stop, it was time to explore Tokyo.
The Karaage in Harajuku
In Haraluku, we stumbled upon a Karaage food truck where we spoke with the chef about the techniques and ingredients used to make this dish. Honestly, it was so good - crunchy and succulent. We all enjoy fried chicken but this was just on another level. This was the first proper meal we had on the trip and I knew it had to end up on the final menu,
Karaage is a Japanese cooking technioue in which various foods - most often chicken but also other meat and fish - are deep-fried in oil. The process involves lightly coating small pieces of the meat or fish with a combination of flour and potato starch or corn starch and frying in a light oil. The foods are marinated prior to coating.
Shabu-shabu restaurant in Shibuya
Later that day, we made our way to a Shabu-shabu restaurant (a Japanese nabemono restaurant), to enjoy some traditional hotpot. The broth itself filled us all with pure joy, there were just so many layers to such a simple dish. We absolutely loved the interactive experience of cooking the meats in the flavoured broth, and numerous sauces being served making every bite you had entirely unique.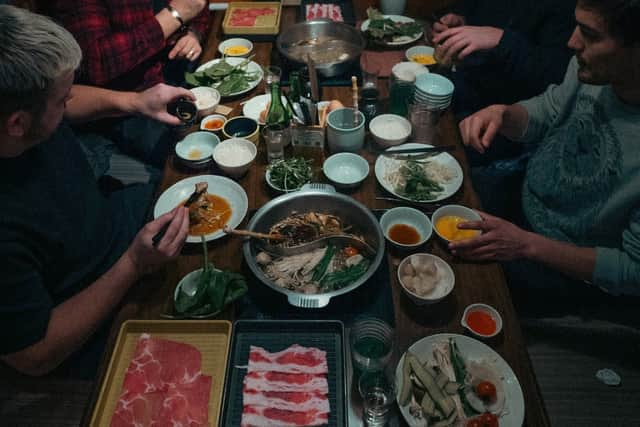 Sushi Dai in Toyosu
Sushi Dai is a renowned michelin-star restaurant in the sushi world and the one restaurant we were determined to try - no matter the time. Located in the Toyosu fish market, we were advised by Mario to wake up early before the queue. 5am? No seriously, we made our way to the dish market for 5am and by this point, the queue had begun.
We managed to secure a table for 8:30am. We returned for our time, tired and excited. Greeted and hosted by chef Satoshi Urushibara, we learned he has been doing this for over 30 years. A master of this art, truly amazing to watch.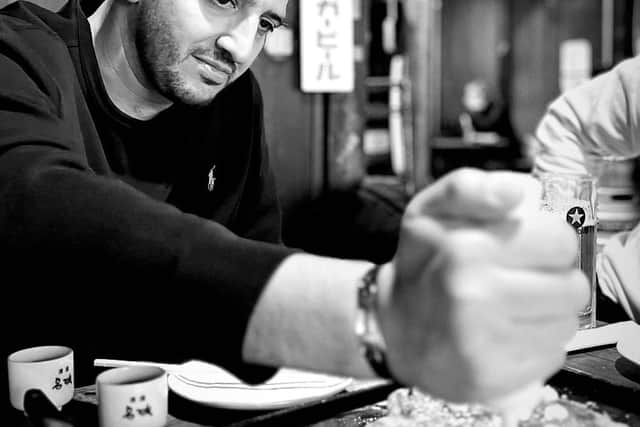 Okonomiyaki in Asakusa
We ate Okonomiyaki at a family-run restaurant called Shichigosan. This experience involved us sitting on the floor, cross-legged, around a teppanyaki-styled cooker called a Tepan. We made our own Okonomiyaki and rated our creations amongst each other. It was like a cooking competition without the pressure of the kitchen of course!
Okonomiyaki is a savoury pancake dish consisting of wheat flour batter and other ingredients (mixed, or as toppings) cooked on a teppen (fat griddle). Common additions include cabbage, meat, and seafood and toppings include okonomiyaki sauce (made with Worcestershire sauce), aonor (dried seaweed fakes), katsuobushl bonito flakes). Japanese mayonnaise and pickled ginger.