It is a much-loved cornerstone of Ashton Lane, with a reputation for the best of Scottish fare, award-winning wine service and idiosyncratic, artist-led interiors. Ubiquitous Chip has welcomed guests including Michael Keaton, Billy Connolly, Kylie Minogue, Keira Knightley, Lewis Capaldi, Kelly Macdonald and Craig Ferguson - the latter two are both former employees.
Now, Glasgow's Ubiquitous Chip is welcoming spring with a fresh proposition: a repositioning of The Brasserie into a new identity called Upstairs at The Chip. The rebrand is a reflection of the interconnectivity of the lively upstairs bar and popular upstairs dining space. It arrives for April along with a new menu.
The restaurant on the ground floor will continue to plot a distinctive culinary path while Upstairs at The Cip establishes its own identity with elevated pub food classics, sandwiches at lunchtime, sharing boards, small plates and seasonal specials at the weekend. There will be a renewed commitment to vegan and vegetarian dishes.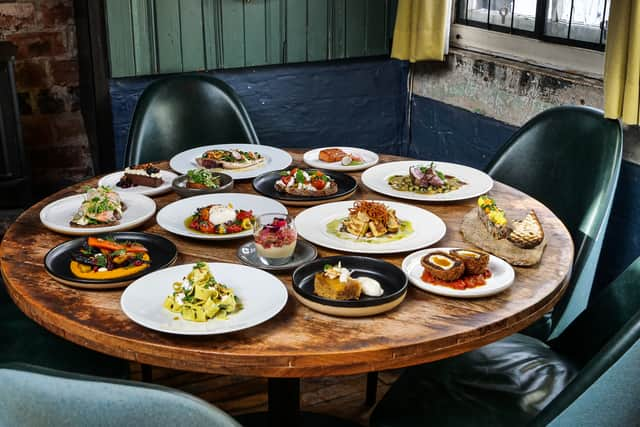 On the Menu: Upstairs at The Chp
Take a table in the dining room just off the bar or the mezzanine. We recommend you order these dishes from the spring menu:
Scotch egg with tomato relish and herb salad
Hot salmon, citrus and avacado
Courgette and barley arancini, whipped feta and watercress
Parmesan gnocchi, sauteed mushrooms, charred onion and tarragon
Ayrshire pork chop, roast fennel, apple, black pudding
Rhubarb and custard
Chocolate pave, candied walnut and bramble
To introduce the idea behind Upstairs at The Chip, Doug Lindsay, Head Chef says: "Spring is an ideal time to launch our new menu for upstairs. We have taken things back to basics, really focussing on what people love about The Chip and creating a menu - including a new lunchtime menu - that is delicious and accessibly priced. As with the Restaurant downstairs, seasonality and Scottish provenance underpins the dishes on the Upstairs at The Chip menu too.
"We have always been focussed on sustainability and minimum food waste at The Chip and across the new menu people can enjoy exceptionally high-quality produce that we are confident will eclipse expectations. We are driving greater interconnectivity between our two kitchens and the ingredients we use, and this can be enjoyed across a range of new dishes. Hopefully our customers enjoy the menu as much as we have loved creating it."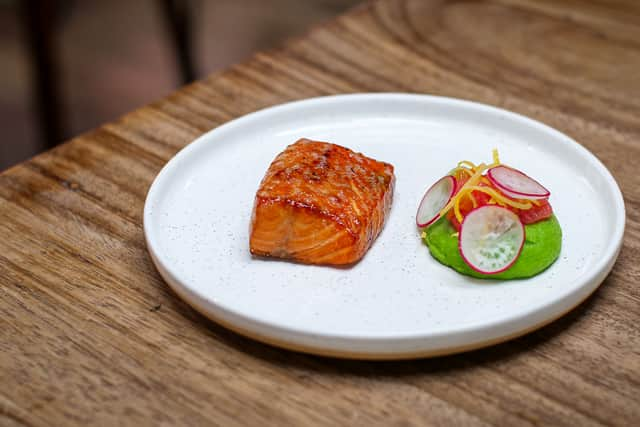 Upstairs at The Chip now joins up the bar and dining space on the first floor and is forthcoming period of investment which will see Ubiquitous Chip close for six weeks in July for a refurbishment.
Echoing what Doug says, Will Allen, General Manager adds:"These are exciting times at Ubiquitous Chip and it is fantastic to see a real investment across the venue and to be directly involved in its evolution. There has always been a symbiotic relationship between the two kitchens, and the new menu – including the new lunchtime menu - reflects how this is being strengthened.
"These enhancements can be enjoyed in the bar area Upstairs at The Chip too. For example, many of our patrons love to sit within the bustling bar, around the roaring fire, and now they can enjoy delicious new bar snacks, along with new cocktails, and an expanded drinks menu without having to necessarily move within the venue to eat. Elsewhere there are light touch additions aimed at enhancing the vibe upstairs such as lush new foliage – our patrons love The Chip's greenery! – as well as gentle design improvements."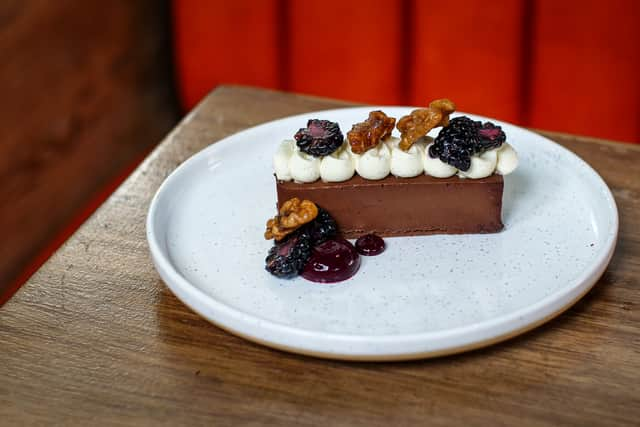 Speaking about the new menus, Michael Horan, Managing Director of Metropolitan Pub Company comments:
"The Chip is an institution, and as its custodians we are committed, and indeed proud, to be ensuring its legacy continues. Memorable food and drink experiences, along with an incomparable atmosphere, have always been at the heart of The Chip's appeal and we aim to strengthen this experience across upstairs as part of this rebrand.
"A big part of the charm of Upstairs at The Chip is being able to enjoy first class food, using in-season Scottish ingredients, in a relaxed atmosphere. The new menu Doug and his team have created reflects how upstairs trades in general. For example, the new lunchtime menu offers what many people want in the afternoon between 12pm and 4pm; a knockout sandwich, a delicious bowl of soup or a really great piece of fresh fish, and at an accessible price point. Likewise, Upstairs at The Chip will also offer a main menu between 12pm and 9pm that can flex for special occasions, but equally suit any informal day-into-night dwell which the Chip's legendary spell often casts! We hope our patrons will approve."
To celebrate the launch of Upstairs at The Chip, for the next two weeks guests can enjoy a 30% reduction on the new Upstairs at The Chip a la carte menu Monday to Thursday between 12pm until 9pm.
The offer begins on Sunday 26th March until Thursday 30th March and also Sunday 2nd April until Thursday 6th April, 2023. This 30% offer does not apply to lunch or drinks, or to the ground floor Restaurant.
12 Ashton Ln, Hillhead, G12 8SJ