11 of the best bakeries in Glasgow
Love pastries or award-winning sourdough? These are some of Glasgow's best bakeries to indulge your sweet tooth.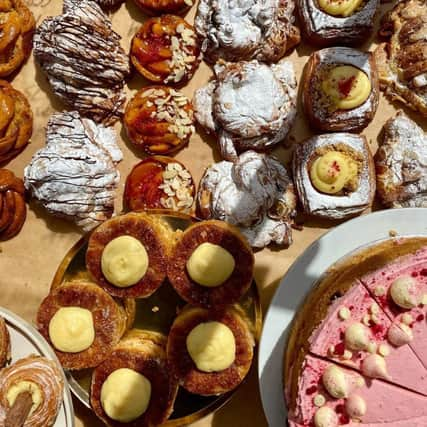 Glasgow has always been a hotspot for homebaked goods throughout the years. If you're looking to try a great local bakery, you've come to the right place.
Whether you're after cinnamon buns, pastries, croissants, tattie scones or freshly baked sourdough, Glasgow's bakeries have your back.
(276 Cumbernauld Road, Glasgow, G31 2UL)
After rocketing to Insta-fame thanks to her drool-worthy cookies, blondies and brownies in 2020, qualified pastry chef and businesswoman, Jacky, is cooking up a storm in her new bakery shop in Dennistoun.
Open three Saturdays a month from 10am until sell out, you need to be fast to get your hands on Full Circle Bakes goodies - but it will be worth it.
Everything is baked by hand using the highest quality ingredients from free-range eggs and organic flour to luxurious Belgian chocolate that melts in the mouth.
Jacky has also recently been expanding her range of vegan products. Stay up to date with the latest via @fullcirclebakes Instagram page.
Must try bake: The Biscoff cheesecake stuffed cookie.
(5 Hyndland Street, Glasgow, G11, 5QE)
Beloved Partick local Kaf Coffee offers sit-in brunches and lunches, as well as pre-ordered takeaway hot lunches, freshly baked goods, bread and coffees.
Must try bake: toffee pecan and caramelised white chocolate bun.
Deanston Bakery
(Deanston Drive, Shawlands, Glasgow G41 3LR)
With a selection of items available on Deliveroo as well as in store, this popular Shawlands bakery has everything you need from buns and sourdough to toasties, sandwiches and bagels.
Perfect for a snack or lunch on the go, Deanston Bakery is up there with the finest.
Must try bake: cinnamon buns.
(393 Victoria Road, Glasgow, G42 8RZ)
Open seven days, The Bakery by Grain and Grind specialises in fresh deli-style sandwiches, pastries, and bread which are all locally produced, seasonal and made-to-order.
Must try bake: Roasted charred cauliflower, chat Masala, mango chutney, coriander, poppadum, and spiced onion bagel.
(79 Lauderdale Gardens, Glasgow, G12 9QU)
A favourite in Glasgow's West End, The Bakery by Zique is an artisan bakery based in Hyndland.
Selling breads, cakes, pastries, tarts and pies, you'll be truly spoilt for choice with this one.
They also prepare colourful and exciting salads, soups, sandwiches and meal boxes, all made fresh in house daily.
If you're looking for outside catering for events or parties, give them a call or pop into the shop for a chat.
Must try bake: caramelised apple and custard danish.
(54 Sinclair Drive, Glasgow, G42 9PY)
One of Glasgow's best family-owned bakeries, Big Bear Bakery is home to some of the tastiest goodies in town.
They also provide local businesses with wholesale baked goods as well as taking orders for celebration cakes and weddings.
Everything is made from scratch by a small team of highly skilled bakers and with plenty of options suitable for those catering to vegan and gluten free diets, this has got to be one of the most inclusive bakeries around.
Must try bake: sea salted focaccia filled with house roasted porchetta, salsa verde and rocket.
(434 Duke St, Glasgow G31 1QL)
From the talented team behind legendary Glasgow brunch locations Cafe Strange Brew and Mesa, Sweet Jane Bakehouse is Dennistoun's new outlet for homemade cake, bread and pastries as well as gourmet pantry-fillers such as their own toasted granola.
Must try bake: rose and cardamom cruffins.
(497 Great Western Rd, Glasgow, G12 8HL)
Established in 2010, Cottonrake has grown popular with locals in the West End.
Constantly driving themselves to produce the highest standard of products possible, the bakers here continue to expand the bakery's menu whilst staying true to core community-based values.
You can pre-order cakes, pastries, merchandise and larger versions of their signature chocolate tarts, made to celebrate online, or stop by the shop to see what is available to takeaway on the day.
They're also expanding and opening a cafe further along Great Western Road.
Must try bake: chocolate and walnut cookie.
(10 Park Road, Glasgow, G4 9JG)
For those who enjoy the finer things in life, Broken Clock Cafe is Woodlands' own family-run artisan patisserie and bakery.
You can pre-order individual cakes, or stop by to see if a table is free for an afternoon coffee and cake.
With some of the most artistic, beautifully presented, not to mention delicious patisserie in Glasgow, this cafe is not to be missed.
Must try bake: lychee and raspberry choux au craquelin.
(27 Old Dumbarton Road, Yorkhill, Glasgow)
With a shop in both the West End and the City Centre, Tantrum Doughnuts has firmly established itself as Glasgow's number one location for freshly fried artisan doughnuts.
Every few months the creative masterminds behind the permanent menu release a range of limited edition doughnuts - be it for Easter, Christmas or Halloween.
Everything here is handmade - from the brioche dough to all of the glazes, jams, custards and toppings.
Made using fresh, local and seasonal ingredients and accompanied by a cup of Papercup coffee, you seriously can't go wrong.
Must try bake: Peanut Butter and Jam doughnut.
(808 Crow Rd, Anniesland, Glasgow G13 1LY)
This Anniesland cafe recently won Britain's Best Sourdough loaf from British Baker, and they've also achieve a Taste Award for their brownie.
Serving lunch as well as takeaway bakes, they're a family run business and baker, Justin Savage kept his local community supplied with fresh bread and other baked goods throughout lockdown.
Must have bake: fruit and nut chocolate brownie.
A version of this article first appeared on our sister site, The Scotsman.