"It's a sad loss for the city": One of Glasgow's best restaurants closes after 22 years
One of the leading lights of Glasgow hospitality has closed his city centre restaurant
Watch more of our videos on Shots! 
and live on Freeview channel 276
Visit Shots! now
Tonight was the last night for Brian Maule at Chardon d'Or. A statement from the chef and his management team at the West Regent Street restaurant said: "We have tried so hard to fight against the financial burden of the 'new normal' world we live in, but it has forced our hand - for now - with immediate effect.
"Surviving through Covid, then spiralling into a cost-of-living crisis, increased home working, plunging property values, lack of support for the Hospitality sector. All these damaging factors, plus many more have weighed heavily on us, we have tried so hard to see it through - for our fantastic team, whom we feel so sorry, but also for the City that we have been part of for the last 22 years, our business simply can no longer be sustained under all these pressures.
"We leave behind something that has been very special, and are so thankful to all our customers, many whom we now consider friends. Your support will never be forgotten - we could never have done it without you, we are grateful for everything and once the devastation has subsided, we will take great comfort from the friendships created along the way and cherish the memories."
The board of the restaurant offered more context on the decision to close: "The considerable pressures on the hospitality industry just now and projected are well understood. Chardon d'Or has its full share of these with soaring food and energy costs, no more rates relief, a customer base in a cost-of-living crisis and big medium term turnover uncertainty. Location though, is critical.
"At the outset, in 2001, and for the next 20 years, Chardon lay in a busy, thriving business district.
"Covid has changed all that. Many of the surrounding businesses are now closed or up for sale or let and those still open are mainly occupied on a part-time basis. This has had the two-fold impact of a substantial reduction in restaurant business and a depression in property values.
"Desperately, sadly, with all this coming together, the inescapable conclusion for Brian Maule and the team is that the Chardon business in West Regent Street will have to close. It's a sad loss for the city...
"As you would guess, Brian is completely devastated by this. He feels so much gratitude towards his supporters and his dedicated staff and he feels he has let them down. Assurances that he has done nothing of the kind and that what has occurred has been almost completely out of his control, will take time to sink in.
"In time, the hope is that Brian, Susan and their loyal team will be able to reflect on these 22 great years for Chardon d'Or; an amazing span in which Brian won 8 fine dining awards and delivered a 10-year programme of hands on training to children from Glasgow schools.
"Brian has built a reputation for the delivery of first-class food and service in the restaurant and the provision of the highest quality in private dining and recurring events. He has a loyal and significant following. Just how and where the value of this might now be captured, time will tell. It is all too raw for these considerations yet. His is a talent though that should not be lost."
As one of the city's most prominent restaurant closes, this is a conversation I had with Brian Maule in 2017.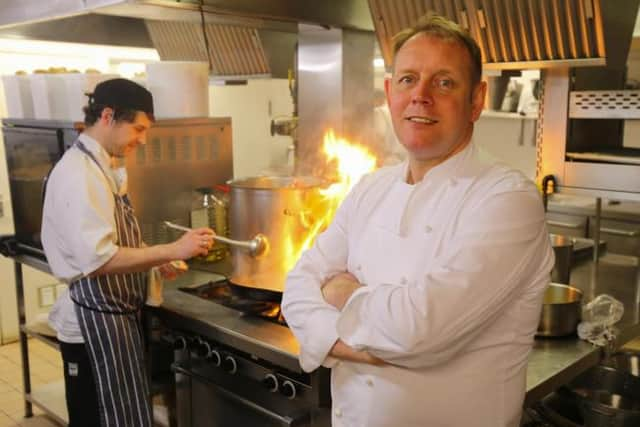 Brian Maule at Le Chardon d'Or
Whenever Glasgow's best chefs are mentioned, Brian Maule is invariably near the top of the list. His restaurant on West Regent Street has been showered with awards and provides the highest standard of fine dining in the city.
Brian is an old-school working chef-proprietor, in the kitchen each day with his team and going round the tables in the dining room to chat to his guests.
An interest in Home Economics at school in Ayrshire set Brian on a path to becoming one of Scotland's most respected chefs. He left home to work in Lyon and to experience the French way of life. The rising star was then appointed head chef at the world famous Two Michelin Star Le Gavroche in London, working with Michel Roux Jr.
He returned home to open his own restaurant in 2001, the fulfillment of a lifelong dream.
So what's your earliest memories of cooking?
Well, I started cooking at sixteen. So, I think it would be when I went in on work experience from school to see what it was like. I knew I was going to to leave school and I had no idea what I wanted to do. I fell into the job. I took a class on food and nutrition at school because they let you away early in that subject and it meant I could get away early to do my paper run.
I got on well with the teacher. I went for an interview, and then on the basis of the two weeks' work experience, if I enjoyed it, the job was there. So, it was like getting an apprenticeship at the time. I was fortunate that I fell into something I enjoyed, and I was good at it. And I think, from there, for me, I saw what you can do with food. I'm from Ayrshire so I was brought up on well-done steak and frozen chips.
It was an eye-opener, actually seeing fresh food, fresh fish, and understanding why you can eat it medium-rare or medium or rare or whatever rather than well-done.
Was there a particular moment when you suddenly realised, "you know what? I'm not bad at this"?
It wasn't so much that, when you're getting pushed so much at a young age because they could see all this potential and I'm a very determined guy anyway, so it's more that I was put into situations that I didn't want to let anybody down, including myself, so I worked hard.
You spent time working in France, how much was that an influence on your cooking?
I went to France with two mates. We put £1000 each in an envelope and went to France, no joke. I went and stayed in the youth hostel chapping doors looking for jobs. Then once we got three jobs, we looked for an apartment and we stayed in a studio flat for a year and a half. I shared a bed with my mate and we acquired another bed for the other guy. We wanted the same things. The three of us wanted to learn.
Is it important to spend some time living away at that age?
There's no doubt about it, you need to go away. I've got three kids, and we've been telling our kids that it's very, very important for them to go away when they've got their studies done. My son's in America; 18, he's doing a football scholarship over there.
And it's not just the experience you're getting and the job of studying, it's the experience of life and who you are as an individual.
France was a massive influence on me in terms of understanding produce and showing respect to ingredients. There's work going into these individual ingredients, and there's somebody making that effort.
There was also an understanding of discipline. It was finding who you are a person going through stress, tiredness, fatigue, learning and still delivering that is a massive thing for a chef. Learning not just how to cook but finding who you are and how strong you are as a person.
It's very easy to walk away. It's easy; new guys walk in and veer out in a day but where are they going to be in five years' time? Nowhere. They'll never go anywhere, they're never going to have an understanding, they're just going to go from job to job to job, and as soon as it gets hard, they walk out.
And unfortunately, as I say to my staff here, if you don't make mistakes, you don't learn. I control the mistakes to a level, but at the same time, they've got to make mistakes and they've got to handle situations in service effectively, to actually understand how to get out of it.
It's showing that you've got discipline and focus to push yourself through that.
What's a typical day like for you in the kitchen?
I'm here half eight, nine. I'll leave, if I have to at three, depending on business, obviously, two, three. I come back at five and work through to half ten.
I sometimes have meetings in the afternoon. I try and do my business all in the morning, and I try and go home and have my dinner with my kids. And to me it's important that we sit at the table every night as a family.
It seems like there's more restaurants opening in the city centre at the moment, there's a lot of competition.
There's definitely a lot of openings, unfortunately they're all the same market. If you go down St. Vincent's Street, they're all doing the same thing, they're all vying for the same business. I think inevitably in Glasgow chefs all work in the same places and they end up with the same menu. If they are good at it, let them do it.
Everybody has different views of what they want in life. I wanted to be the best, that was a decision I made at a young age, and I pushed myself, working with the best. Everybody has different ideas of what a restaurant should be.
What about the Glasgow culture of cooking, our relationship with food. Very few people start meals from scratch at home anymore.
Everybody's having to work more hours. Yes, I think there is an element of people don't cook from scratch, but I'm not saying it's a good thing or a bad thing. If you've been out since six in the morning, you go home, the last thing, realistically, you want is standing there and cut potatoes, cut veg, cook a chicken and fix. So you can buy something that only takes half an hour. You have stuff on the shelf for a reason.
I think if things were the same as in Europe and that going out to restaurants was cheaper, if you take away the tax for example, it would make it more accessible for people to eat out on a regular basis, the same as New York, Spain, France.
So, if you take 20 percent off each bill, that's a lot, whether you're coming here or whether you going to a pizza place, at the moment, everything's going up. The price of ingredients is going up, the rates are going up. The businesses kind of just keep taking the hit all the time on the price of alcohol going up, the price of food going up.
What type of produce do you use in your kitchen?
We use as much Scottish produce as we possibly can. And, obviously, we're limited in terms of salads and fruits, and softer vegetables but meat, fresh fish and root vegetables, we've utilise them as much as we possibly can.
How does a new dish end up on your menu? How much of it is influenced by your own taste for flavours?
Obviously I'm going to have a taste for certain things I like. If I find a dish that's in season, I bring it together, I take a week to get it right and then I put it on the a la carte. At that point, when I'm seasoning, it's to my taste. We have salt and pepper on the table, so people who think it is under-seasoned can season it. But I'd hope to think that they taste it first before they add salt and pepper.
And what are your own favourite ingredients?
I don't really have a favourite ingredient, I think that anything that's done well has merit, whether it's fresh meat, poultry, game. If it's done properly, a lot is psychological, what you don't like, liver and kidneys; some people don't like the texture. At the end of the day, I believe that if it's done properly, seasoned properly, the right spices adding to it to then the average taste bud will think it'll be edible.
When people look at Scotland, they often think of Edinburgh as more of a food destination than Glasgow, despite the fact there i a much larger restaurant scene here. How can we change that perception?
I wanted to have a restaurant with relaxed settings, professional service, good tasty food, and trying new things and local ingredients and making it different what everybody else. I bought in Glasgow because everybody's doing the same thing. You could go to five places, and if you take a copy of five menus, more or less they'll all be the same because all the chefs, they've all worked with one another or they all know one another.
So they're all limited to what they know. I do what I do. I push Glasgow as much as I push me, and because I think it's important for the city.
I try and work closely with Visit Scotland and the Council because I think it's important that we push the city, and I don't think the city gets a reputation for what it does a lot of the time. We don't have enough tourism compared to Edinburgh. I believe if you're bringing people to the city, show the best food. It's how the city should be selling itself.
What do you think has helped establish your restaurant's reputation?
Our lunch menu's just over £20 pounds for two courses, and you're getting fresh beef, fresh chicken, fresh lamb, fresh fish. You're getting a good selection. You can get a lot more than that of course from the a la carte menu.
I've gotten to know a lot of my clients; my clients have gotten to know me. Even people who do come all the time, they leave and say, "That was nice that the chef came and spoke with us." It's a personal touch that we built our business on for the last 16 years.
What keeps driving you forward?
I still love my job. I have the same challenges as everyone else, some days I'll think I'm not getting anywhere. A few years ago, we thought we'd lost everything when the world crashed. There was nothing wrong with what we were doing, it was just the way the world went.
I'm running a business and you have to make it work. I'm no machine. I get tired same as everybody else. I still push myself to be the best.
A positive service is great. You start a Saturday night, you do 120 people, everybody leaves happy. You go to the tables and everybody's paying compliments to the staff. You can then have a beer at the end of the night, go away, off on the Sunday, come back on Monday and start again.