The new city centre venue is being led by Marco Lazzurri, already the owner of La Fiorentina, Tabac on Mitchell Lane and recently opened cocktail bar Devil of Brooklyn.
The building is owned by the National Trust for Scotland. Built as a hospital, work started in 1802. The white structure with its distinctive clocktower was refurbished in 1876 with architect John Baird adding a feature staircase.
Briefly a library in its recent history, it was unoccupied, in a state of disrepair and in need of reinvention from 2008.
In June 2014 Hutchesons' opened as a steak and seafood restaurant after a significant investment of £1.4million in restoration work.
Hutchesons' closed during lockdown and didn't reopen.
In a nod to the heritage of the building, the new venue will be known as 1802 @ Hutchesons' Hall, a reference to the year work began on the building in the city centre.
What to expect from the bar and restaurant?
As I arrive into the venue, attention is being paid to the downstairs bar area, expected to be the first part of the building to reopen with new furniture and a cocktail lounge aesthetic.
Upstairs, one of the most impressive dining rooms in the city is set to have a new lease on life. Marco hasn't decided on the name yet - the current favourite related to the year the original building was completed - but he does have ambitions to create a world-class cocktail bar with an ambitious restaurant menu.
A project like this has its challenges, not least how to heat the place. "The landlord left the heating on, bear in mind that this would have been when prices were around 20p a kilowatt. The monthly bill was £15,000. Now, I don't have a contract yet because no-one wants to give a new supplier contract to hospitality but when I do the rate will probably be double that and government support stops in April" Marco says.
"At the moment, we want to start with weekend opening for the upstairs room, maybe extend that to four nights a week if there's a good reaction over the summer. We'll start with Friday, Saturday and Sunday I think. I want people to think about us and really want to get into this room."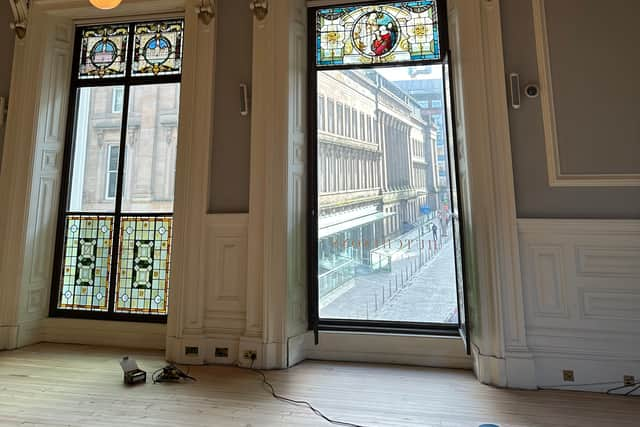 "Downstairs will be a cocktail lounge open all week and at the moment I think it will have its own menu so we can keep the upstairs bar more as an experience." In the main dining room, a feature bar is being installed at the top of the room.
"I didn't get any funds from the National Trust. I had a meeting with them but they said there was absolutely nothing they could offer us. This is a listed building so you are limited to what you can do. We've sanded down the floor and we will varnish that, we are taking the hanging lights out but the ceiling and the features will remain as they are" Marco says.
"There's an opportunity to make more of the fireplaces" he says, gesturing towards the far wall. "I was tempted to build a bar in the middle of the room but I was worried about what that would do to the space and I didn't want more people sitting or standing at the bar. I'm trying to keep this like Devil of Brooklyn where we have table service."
The opening date is expected before the end of April.
"I don't want to say too much about the food" Marco tells me. "It won't be steaks and fish like it was before here, I'll say that.
"We had to shift some of our expectations because in a dining room of this size, it's a bigger scale. At the moment, we have Andrew Mason who will be the Executive Chef. He is currently working at Fat Lobster. He has a very creative attitude to international flavours so we will be bringing in influences from North African and Asian cooking.
"There will be an element of challenging expectation, where we want to create something that looks fantastic, tastes fantastic but you won't find it anywhere else. I want people to be thinking about these dishes and looking forward to coming here at the weekend to try the flavour combinations."
"We are looking at a set menu dining experience at Devil of Brooklyn.
"That might be something we explore here because the cocktail menu will be really important to what we do. We're looking at live performances and other things we can add to the atmosphere at weekends.
"The cocktails downstairs will be more of the classics while upstairs it will be our own individual take on things.
1802 @ Hutchesons' Hall will open at 158 Ingram St, G1 1EJ.
For updates on city centre life, follow the #LoveGlasgow hashtag across social media for inspiration, city guides, what's on listings, days and night out ideas this spring.