The Ubiquitous Chip has introduced a spring menu, complemented by one of the West End's most impressive wine lists. For the new season, the restaurant on the ground floor continues to plot a distinctive culinary path while Upstairs at The Chip establishes its own identity with elevated pub food classics, sandwiches at lunchtime, sharing boards, small plates and seasonal specials at the weekend. There is a renewed commitment to vegan and vegetarian dishes.
Upstairs at The Chip now joins up the bar and dining space on the first floor and is forthcoming period of investment which will see Ubiquitous Chip close for six weeks in July for a refurbishment.
Spring Wines at Ubiquitous Chip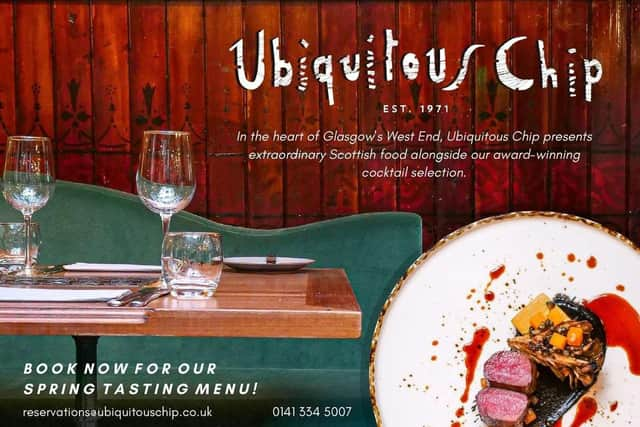 The Chip has over fifty years' experience in sourcing wine and training staff in selecting the finest pairing of wine and food.
GlasgowWorld visited the landmark restaurant on Ashton Lane to speak to Dan Dorsett, Ubiquitous Chip's Head Sommelier.
Watch the video for a tour of the dining and bar spaces and Dan's top picks from the current wine list.
We start in Hungary - once dubbed Vinum Regum Rex Vinorum, the sweet dessert wine made in the Tokaj region was considered the 'Wine of Kings and King of Wines.'
The grape Furmint is the pride of Hungary, and makes a racy, deliciously serious dry wine as well.
Choosing a white 2020 Dry Furmint wine called 'Egy Kis' from Barta, Tokaji, Dan says: "Furmint itself and Tokaj, the region, are quite famous for making very sweet wines, but here they've made a really nice, light, fresh, dry wine, lots of flavours of fresh apple, maybe a little bit of white pepper in there as well. You could have it on its own or with salads or light fish dishes. It works really nicely."
Taking us to the roof of The Chip, Dan introduces a bottle of Mas de Daumas Gassac Rosé Frizant, saying: "This is a sparkling rosé from a very famous winemaker Mas de Daumas Gassac, based in Languedoc in France.
"It's quite a fun and lively type of wine that they make here. Not super serious, like the big, very famous red wine that they make - it is made with a blend of Cabernet Sauvignon and Mourvedre, which is quite an unusual combination of wines.
"It's just really juicy, you've got ripe strawberries, lots of red fruits in there. A little creaminess to it as well.
"The perfect wine for sitting out in the sun, like today, and just having a glass of wine on the rooftop."
Watch the video for more exclusive recommendations from Dan.
Doug Lindsay, Head Chef says: "Spring is an ideal time to launch our new menu for upstairs. We have taken things back to basics, really focussing on what people love about The Chip and creating a menu - including a new lunchtime menu - that is delicious and accessibly priced. As with the Restaurant downstairs, seasonality and Scottish provenance underpins the dishes on the Upstairs at The Chip menu too.
"We have always been focussed on sustainability and minimum food waste at The Chip and across the new menu people can enjoy exceptionally high-quality produce that we are confident will eclipse expectations. We are driving greater interconnectivity between our two kitchens and the ingredients we use, and this can be enjoyed across a range of new dishes. Hopefully our customers enjoy the menu as much as we have loved creating it."
Echoing what Doug says, Will Allen, General Manager adds:"These are exciting times at Ubiquitous Chip and it is fantastic to see a real investment across the venue and to be directly involved in its evolution. There has always been a symbiotic relationship between the two kitchens, and the new menu – including the new lunchtime menu - reflects how this is being strengthened.
"These enhancements can be enjoyed in the bar area Upstairs at The Chip too. For example, many of our patrons love to sit within the bustling bar, around the roaring fire, and now they can enjoy delicious new bar snacks, along with new cocktails, and an expanded drinks menu without having to necessarily move within the venue to eat. Elsewhere there are light touch additions aimed at enhancing the vibe upstairs such as lush new foliage – our patrons love The Chip's greenery! – as well as gentle design improvements."
On the Menu: Upstairs at The Chip
Scotch egg with tomato relish and herb salad
Hot salmon, citrus and avacado
Courgette and barley arancini, whipped feta and watercress
Parmesan gnocchi, sauteed mushrooms, charred onion and tarragon
Ayrshire pork chop, roast fennel, apple, black pudding
Chocolate pave, candied walnut and bramble
12 Ashton Ln, Hillhead, G12 8SJ