Get a great sound with Majority
Majority Audio is selling its TRU SPORT earbuds, ideal for fitness, running or the outdoors, for just £17.47 for Prime Day.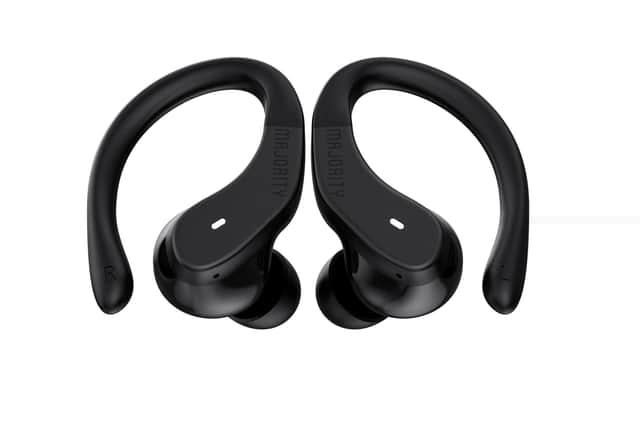 POWERFUL STEREO SOUND QUALITY | The TRU Sport Wireless Bluetooth Headphones are designed in the UK by a group of audio experts. The TRU Sports Headphones are a powerful pair of "true wireless stereo" in-ear headphones with the latest audio technology and perfect for running, cycling, hiking and other outdoor sports. Our digital sound quality is designed, tested and perfected in Cambridge, UK.
FAST AND LONG-LASTING CHARGING. TRU Sport Bluetooth Wireless Earbuds charge quickly in just 30 minutes to get a full two hours of playtime. A full charge will give you up to 30 hours of play time, 7.5 hours from the headphones and get 3 additional full charges out of the case. Enhance your listening experience with crisp sound and listen to your favorite music, radio, games, podcasts, live sports or TV show day and night.
PACKED WITH FEATURES | Our TRU sports headphones are IPX7 waterproof with Bluetooth 5.3 technology and touch controls. TRU sports headphones can be used in any outdoor environment and the headphones are a low power consumption wireless connection. 13mm speakers pump out crystal-clear sound without missing a beat, enjoy uninterrupted phone calls and superior clarity with our built-in microphone.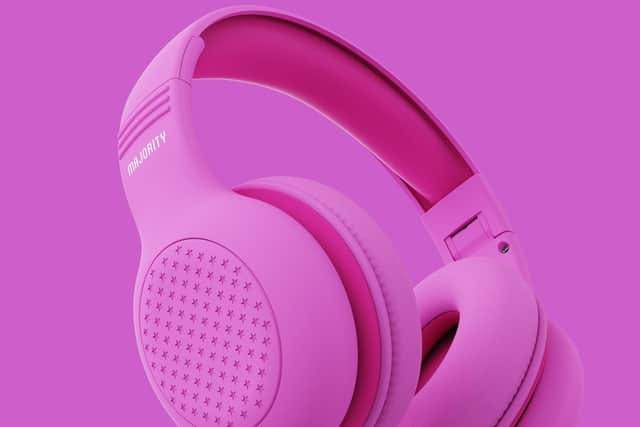 UNIVERSAL COMPATIBILITY | Majority TRU sports wireless earbuds allow our headphones to connect to all Bluetooth-enabled devices and brands, including Samsung, Apple, Huawei, Android, Google, Microsoft, etc. With the one-step pairing method, it's incredibly easy to connect our Majority TRU headphones to any phone, MP3 player, iPod, tablet or music player. Hear music the way it's meant to be heard.
TRUSTWORTHY AUDIO: Majority is a Cambridge UK based home audio brand with friendly service. We offer an extended 3-year warranty for our entire product line (registration required) and a return policy. This package contains 2x Majority TRU sports headphones, 1x charging case, 1x USB C charging cable, 3x pairs of silicone eartips and an easy-to-read user guide. Developed and designed in Cambridge UK.
B09ZTQP9TM Majority Superstar Kids Headphones- Blue (PRIME DAY DEAL 15 per cent off- £14.95 down to £12.71)
B09ZTRW4HW Majority Superstar Kids Headphones- Pink (PRIME DAY DEAL 15 per cent off- £14.95 down to £12.71)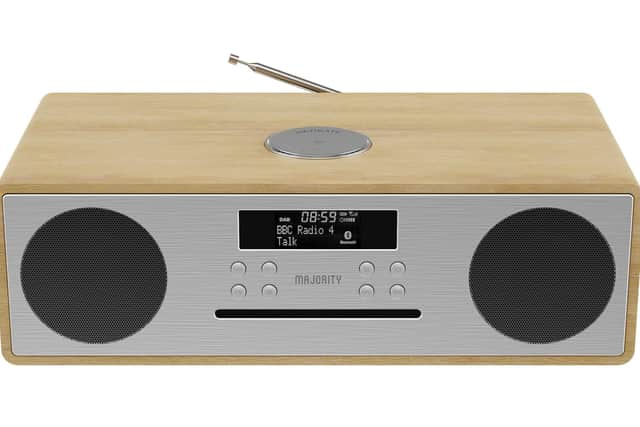 B09ZTTP4YB Majority Superstar Kids Headphones- Grey (PRIME DAY DEAL 15 per cent off- £14.95 down to £12.71).
Every inch of the Majority Superstar Kids Headphones is constructed to deliver a top of the range sound. Delivering a transformative listening experience for gaming, music, tv and more, the over-ear design allows the headphones to reproduce a wide range of frequencies. The design is perfect for the type of sounds featured in many children's media, as the sound quality never fails to deliver engaging audio.
With the comfort of children in mind, the soft-cushioned earpads, allows for easy and relaxing listening. Cupping the ear entirely, the oversized earpads, surrounds the listener in their audio of choice, offering an entrancing audio experience- Ideal for long journeys!
In line with the World Health Organisation's (WHO) recommendation of safe volume control standing at no higher than 85db for up to eight hours, the Majority Superstar Kids Headphones volume control is limited to 85-94db. Designed to protect children from irreparable hearing loss, the built-in volume control, accessible from the touch control caters to sensitive ears.
Want to skip a song? Need to pause a movie while you eat a snack? Adjust your audio with a touch of a button. Weighing only 6.18oz with an adjustable headband and fully foldable design, the Majority Superstar Headphones are ideal for any trip or simply an addition to a child's rucksack. Tangle free 3.5mm audio cable, with long 1.2m length for maximum usability.
The headphones that were built to be a holiday essential, weighing in at only 6.18oz, the Majority Superstar Kids Headphones is a must-have for any family on the go! Its adjustable headband allows the headphones to adapt to a user growing up, while the fully foldable design makes it ideal to fit in a rucksack and take along to school, a playdate or store in space-restricted areas.
Sharing is caring! Listeners can connect with one or more sets of headphones for several users to enjoy the same audio without scrimping on sound quality.
B07D365153 Majority Oakington DAB+ Radio & CD Player Music System- Oak (PRIME DAY DEAL 15 per cent off- £139 down to £118.15).
DAB/DAB+ DIGITAL & FM RADIO: Enjoy a wide range of digital & FM radio stations.
CD PLAYER: Enjoy a blast from the past with the Oakington's built-in CD Player. Using the remote control, you can easily play, pause or skip ahead to your favourite songs. Additionally, adjust bass, treble and equaliser to heighten the audio experience.
BLUETOOTH, AUX-IN & USB PLAYBACK: Offering a wide selection of connectivity, enjoy cinematic sound when you connect to the radio's audio input via AUX cable. Alternatively, pump up the party with your favourite playlists using Bluetooth or relax with your favourite tunes via USB stick for audio from USB MP3 sticks.
USB CHARGING & REMOTE CONTROL: Hear your music in excellent quality with the Oakington's patented HD sound using the 30-watt speaker system. Easily control your audio via the supplied remote control. Additionally you can connect a USB charged device to charge it using the USB charging feature.
WARRANTY INCLUDED: Majority offer full technical support for every item, as well as including a comprehensive 36-month warranty (registration required).