Watch: We go to Shawarma King to try 'Scotland's Best Kebab'. Here's our verdict.
For the second time Glasgow's very own Shawarma King has been named the home of Scotland's best kebab, so we put it to the test.
Watch more of our videos on Shots!
and live on Freeview channel 276
Visit Shots! now
That's two years in a row now the team behind King Street's Shawarma King have been invited up on stage at the British Kebab Awards in London's Park Plaza and presented the title of Best Kebab in Scotland.
Walking up to the shop a week later, it appeared the people of Glasgow agreed with this recurring sentiment. I arrived at 11am on a Tuesday - one of their 'quieter times' - and the queue was already spilling out the door.
It took me by surprise, I'd only ever experienced this kind of food as late night salvation after dancing myself sober on a sticky nightclub floor, and the thought of consuming it during daylight hours - let alone before lunch - initially seemed absurd.
But, as I took a moment to contemplate how to approach the story among the growing mass, the voice in my head spurred me on: "it's now or never".
The kebab was first documented in the 1377 script of Kyssa-I Yusuf, where it is suggested the food item originates from Turkish soldiers who skewered chunks of meat on swords before grilling over an open fire.
This style of cooking has since travelled to almost every corner of the world, with each society adapting it to suit the means of their land and cultural practices.
Shawarma King, which is run by a family of first-generation Turkish immigrants, specialise in shawarma, a variant of kebab where the meat is cooked on a rotating skewer but served inside a wrap.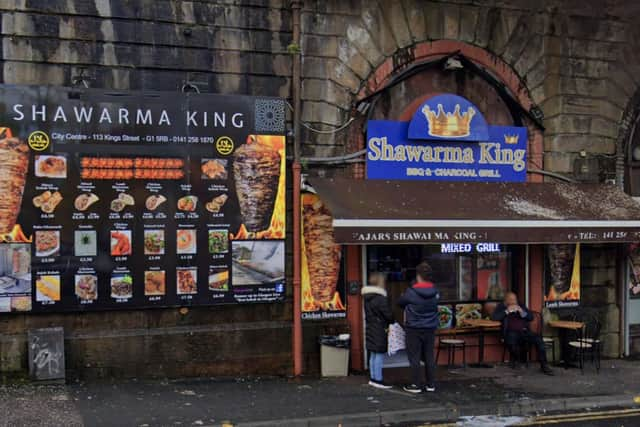 Head of the brothers, Majed, explains it's his family's dedication to consistently meeting high standards of delivery on their product that has made them the best in the game.
"We make everything from scratch, we have barbecue, we have kebabs, minced kebabs, shawarma, falafel, vegan stuff.
"Everything we make ourselves, daily, day-by-day, even the salad, everything is fresh.
"Naan bread, we make it here for all our wraps.
"We put spice in the day before to get it prepared and ready.
"It's big teamwork inside. We all do the same job, we all know everything.
"Me and my brothers and my workers, we all work together."
I had taken it upon myself to judge whether Shawarma King were really worthy winners. Behind the scenes, everything that Majed had said about the business's operations rang true. The deciding factor now was taste.
While the look and smell of roasting lamb and chicken was dangerously tempting, I have not eaten meat since 2020 and thought it unwise to taint this timeline.
Majed made me up a plant-based version using falafel for its main filling, which he prepared quite delicately and precisely considering the pressure I subjected him to by lingering over his shoulder with a camera.
The end result was visually striking. He handed it to me, bottom half wrapped in white paper, the image looked like a meticulously curated Instagram post. The thick white pitta hugged its colourful insides and sauce dripped out from its front.
As eager customers knocked knees on the seats out front, I headed over to the wooden benches outside neighbouring Mono to commence the awaited dining ceremony.
Shawarma King was under shade from the railway bridge above, and this area in King's Court provided kinder lighting for my live review, perhaps the main motivator for my move.
Overcoming the initial challenge of working round the wrap's width I took the first few bites and concluded I was a big fan. There were a lot of flavours and textures, all compatible, all delicious. It now made perfect sense as to why people lined up at 11am on a Tuesday.
Unfortunately for me, because I'd chosen to undertake this endeavour on the property of another restaurant I was asked to move, and consumed the rest at a bus stop across the road.
For updates on city centre life, follow the #LoveGlasgow hashtag across social media for inspiration, city guides, what's on listings, days and night out ideas this spring.