Snoop Dogg has returned to Glasgow today ahead of his gig at the Hydro tonight, March 16, and he was greeted by a bagpipe player and a rendition of 'Still D.R.E' when he landed at the airport.
Ross Ainslie, a professional piper, was there to welcome Snoop Dogg when he arrived on the runway today. He gave a rendition of Still D.R.E while Snoop can be seen stepping and grooving to the drone of the pipes before getting into his car to be taken to the Hydro ahead of tonight's gig.
Ross Ainslie is a popular piper, who was given the opportunity to greet Snoop as he landed. Ainslie just played at Celtic Connections this year, has featured on the setlist of a range of trad-festivals, and just last year released an album 'Live at the Gorbals' - you can get a better idea of the piper by following him on Instagram.
From the West Coast to the East End
Snoop Dogg was originally meant to play in Glasgow on August 26 2022, but was instead rescheduled to today, March 16 2023. Snoop's had a long and illustrious career which has seen global fame, tens of millions of record sales, and a career in movies and TV, he even reinvented himself as a reggae artist for a time. Now, he's just released his 17th studio album, I Wanna Thank Me, and he's currently undertaking a UK and Ireland tour.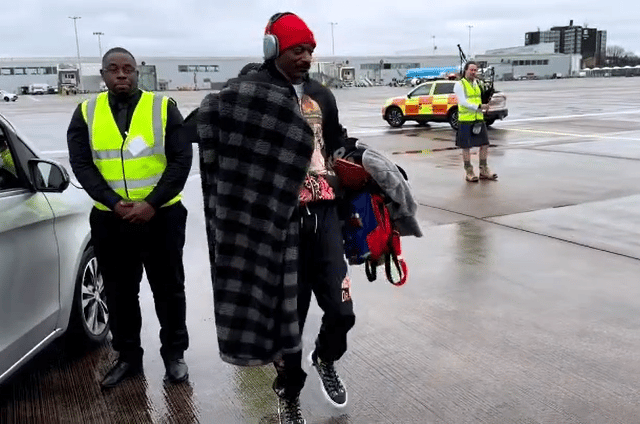 After tonight's concert at the Hydro, Snoop will go on to play in The 02 in London on March 21, 3Arena in Dublin on March 26, the first district arena in Leeds on March 27, and Resorts World Arena in Birmingham on March 28.